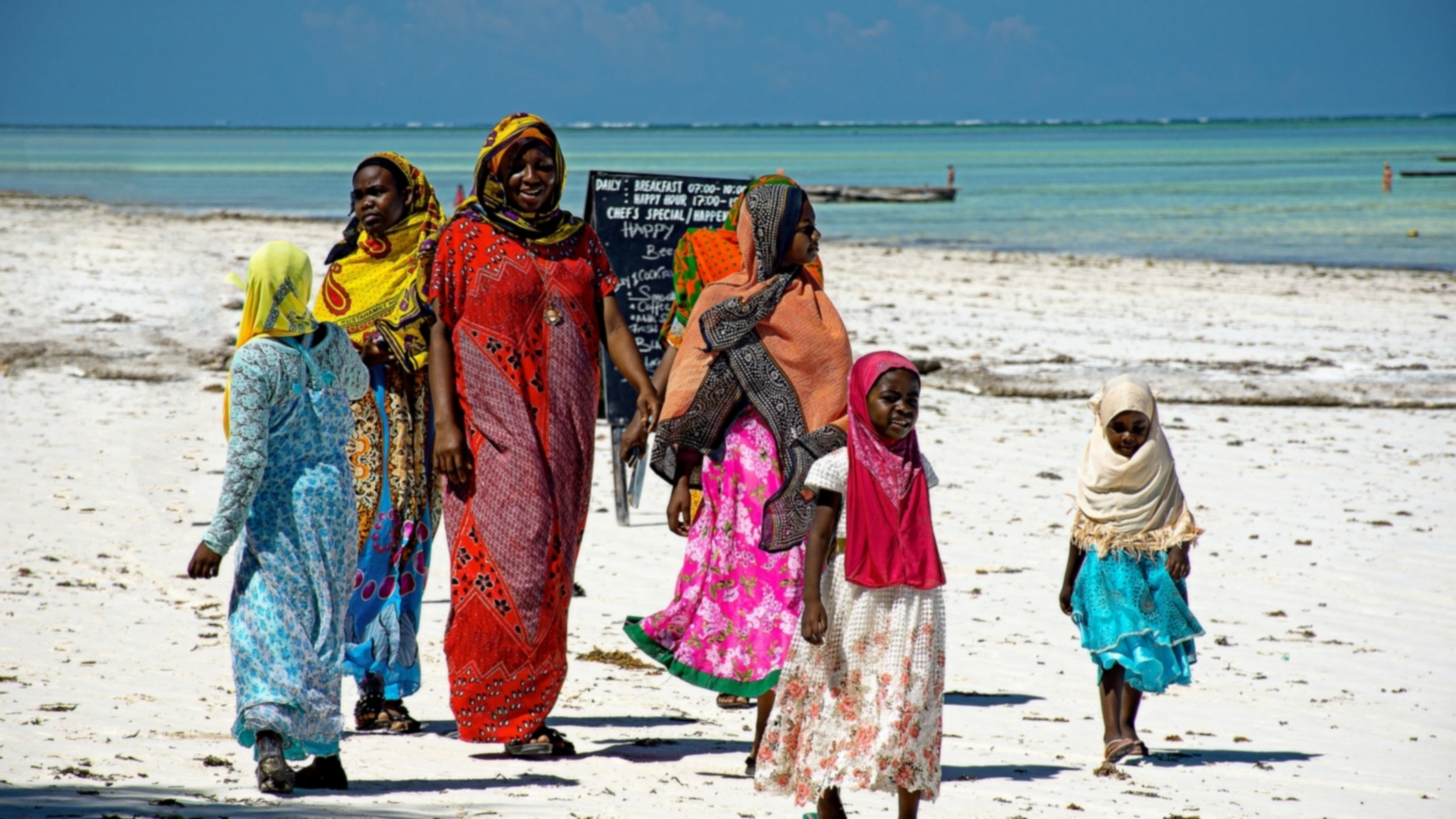 Zanzibar is home to world-class snorkeling and scuba diving, swimming with wild dolphins in ethical ways, and marine-spotting opportunities. You will discover some of the world's least-visited coral reefs, with an array of spectacular and diverse water life at your fingertips. 
Take a trip to the hustle and bustle of Stone Town offering a hub of activity. Discover a lively trading town, with its markets selling spices, fresh fruit and fish, while holding the impressive title of a World Heritage Site. 
Between the vibrant city life & tropical paradise, Zanzibar offers unique safari sites, exquisite marine life and beautiful sunsets. Soaked in Swahili history, the diversity of this incredible island will astonish you, beyond your wildest imagination. 
Fun Facts 
Zanzibar is popularly referred to as the 'spice islands

Zanzibar is the world's oldest functioning Swahili city

Zanzibar has seen influences from British, Dutch, Egyptian, Portuguese, Arab & Phoenician, throughout various stages of history

The Zanzibar archipelago is a series of islands on the Indian Ocean. The island is situated around 16-31 miles from the mainland Republic of Tanzania. 

Zanzibar is a semi-autonomous region of Tanzania.

Nestled close to the Equator, Zanzibar is warm throughout the year and has 12 hours of daylight and 12 hours of darkness, like most of the East African countries.

Zanzibar is home to the nearly extinct Red Columbus Monkey, the Servaline Genet, and the Leopard.
Projects:  Despite its blissful beaches, unique architecture & exquisite flora & fauna, life for many locals is tough and the majority of people are living below the poverty line. Zanzibar offers a truly authentic volunteering experience and an insight into marine conservation, from an angle like no other. 
ARRIVAL & AIRPORT PICKUP
All international flights land in Zanzibar City. If your flight takes you into Dar es Salaam, rather than to Zanzibar, you can opt to take a ferry or flight to the island. 
After you have booked and confirmed your placement, please book your flights to arrive at Abeid Amani Karume International Airport in Zanzibar. A member of staff will meet you on arrival at Airport. This airport services numerous international carriers. Zanzibar has good connections to destinations throughout the Middle East, Europe, the Asia- Pacific region, USA and Africa. 
Orientation and placement will be done the next day. The volunteer guest house will be your base for volunteering while living in Zanzibar. 
PROJECT DETAILS
By becoming our teaching volunteer, you will get involved in a complete range of teaching and development activities in Zanzibar. If you're a native English speaker or if you already had some teaching experience, you will surely be a valuable resource in the classrooms.
Your English skills will allow you to teach proper pronunciation and language usage. The currently opened volunteer placements are for teaching children aged 4-7 years old.
During the first week, a local teacher will assist you to conduct classes and solve language barrier issues if any. When the children become familiar with you, you will then be able to run classes independently. As all private and public schools have worked-out curriculums, you can either follow the official Tanzanian curriculum or apply your own skills.
If you have any additional skills like teaching games, music, painting, singing, dancing, yoga, martial arts, etc., you are most welcome and encouraged to apply them in practice.
The application process is not complicated, and volunteers do not need to apply a long time in advance. CR HOPE Foundation gives you the support you need to take the hassle out of arranging your volunteering adventure in Zanzibar.
Our volunteer programs in Zanzibar give you the chance to experience a different culture whilst contributing towards a worthy teaching, community, conservation, or sports initiative.
AVAILABLE VOLUNTEERING WORKS IN ZANZIBAR.
Planning to volunteer abroad with an orphanage or childcare program? AMANI HOSTEL offers Zanzibar orphanage volunteer work for individuals/couples/families/groups and students who love children to make a great contribution and bring changes in their lives. Doing orphanage work in Zanzibar will also help you to get immersed in the local Zanzibar culture.
Zanzibar people are known to be friendly; this is one of the best reasons to work as a volunteer in Zanzibar. Doing orphanage volunteer work in Zanzibar is a great opportunity to learn a new culture from inside out. This volunteer project can be quite emotional when you see poverty close you but you will be able to help and you will be given full training and support when participating. You won't be alone either; there will be volunteers from all over the world helping too.
PROJECT HIGHLIGHTS:
Teaching English (3-4 hour a day)

Helping the children with their homework and monitoring their academic progress etc.

Assisting the children with their daily routine before and after school (i.e. brushing teeth, getting dressed)

Accompanying the children to school and picking them up

Organizing games, arts and crafts and singing and dancing activities and any other creative educational extracurricular activities

Taking kids on educational tours around Zanzibar (Tanzania mainland)

Help in food cooking, distribution, kitchen and garden.

Help with administration.
Volunteering with our Zanzibar Orphanage program is a memorable life moment that you give back to the community. By joining the Zanzibar orphanage volunteering project you get the chance to improve the life of underprivileged children, care for them and support them.
PROJECT LOCATION:
Zanzibar is a paradise with soft-sand, white beaches, and shimmering azure waters. If you are a beach or sun lover and you have a thing for snorkeling, Zanzibar is your destination. But, the Zanzibar Archipelago is so much more than romantic coastlines and blissful sunsets – these islands offer a kaleidoscope of sights, smells and tastes which feed your soul and leave you wanting to return again.
ARRIVAL & AIRPORT PICKUP:
All international flights land in Zanzibar City. If your flight takes you into Dar es, Salaam, rather than to Zanzibar, you can opt to take a ferry or flight to the island.
After you have booked and confirmed your placement, please book your flights to arrive at Abeid Amani Karume International Airport in Zanzibar. A member of staff from our local partner organization from Arusha will meet you on arrival at Airport. This airport services numerous international carriers. Zanzibar has good connections to destinations throughout Europe, the Asia- Pacific region, USA and Africa.
ORIENTATION:
Orientation and Placement will be done the next day. Generally, your volunteer orientation is an overview of the project's mission, expectations and introduction to the local community and project site. Following your arrival in Zanzibar you will be given a presentation by the co-coordinating project team to prepare you for the work you will be doing.
PROJECT DETAILS:
The children living at the orphanage home really need love & care, just like other children. Every child needs love, kindness, attention and care. When the little human beings are born, they should be surrounded by loving people. But unfortunately, life dictates its harsh laws, and many children do not have anyone close who would care. We need volunteers for this project because having volunteered with them at all times makes them happy and they feel that they have somebody taking care of them.
At orphanage care project in Zanzibar, there are many areas where volunteers can use their education and skills to contribute to the life-changing experience for our children. Amani Hostel  facilitates opportunities for individuals, students, groups and gap-year students to volunteer in Zanzibar.
AMANI HOSTEL organizes and arranges adventure holidays, wildlife programs, language and cultural experience programs, and meaningful volunteer opportunities across Zanzibar. Amani Hostel places volunteers and interns in schools, hospitals, and orphanages in Zanzibar. You can even sign up for an adventure safari or tour in Tanzania (mainland).
Get some friends together or organize a group from your school and embark on this incredible adventure! Discounts are offered on any group of 5+ participants on the Zanzibar volunteering program.
LONGTERM VOLUNTEER WORK:
Please contact us for more information about our long-term volunteer work in Zanzibar. We will guide you on the best times of the year, what to pack, what extra health precautions to keep in mind, and all logistics.
VOLUNTEER ACCOMMODATION:
Volunteers are provided accommodation in a beautiful coastal volunteer house accommodation managed by the local coordinating team. Three meals a day (Breakfast, Lunch and Dinner) are provided to the participants from Monday – Sunday. The accommodation is neat and clean. Accommodation is shared amongst volunteers on the 'same gender sharing' basis rooms. Wifi internet, warm water is not guaranteed.
Our program is for anyone eighteen years and above who loves service above self and social experiences with people from all over the world. We also accept volunteers of 16+ years of age if they are in a group with a guardian or supervisor above 25years. Volunteers under 16 years old are only considered when accompanied by a parent/guardian. There isn't a maximum age limit, though a reasonable fitness level is necessary. Families are encouraged to apply and are welcome!
VISAS:
Visitors to Tanzania must obtain a visa from one of the Tanzanian diplomatic missions or online unless they come from one of the visa exempt countries or countries whose citizens can obtain a visa on arrival. Almost all that are not visa exempt may obtain a visa on arrival. Visa must be paid with notes of USD 50 or USD 100. The length of stay is determined at ports of entry.
All volunteers are required to apply for class "C" resident permit in Tanzania after your arrival in Tanzania and this is your responsibility. You will enter Tanzania with a tourist visa and apply the permit next day. You must apply the permit in the Immigration Bureau in Dar Es salaam, Arusha or Zanzibar city. Our country coordinator in Tanzania will help you during the application process.
INSURANCE:
You'll need to buy appropriate travel insurance covering your participation on the program. You won't be able to go without the right travel insurance so double check to avoid disappointment. Please make sure that you're covered for the whole duration of your trip – from the day you leave your home to the day you return.
WEEKENDS AND FREE TIME:
Over the weekends or evenings, participants are free to eat out and explore the different delights that Zanzibar/Tanzania has to offer. We arrange city day tours and long-weekend safaris. No matter what your interests are, there is always something for everyone to enjoy!
PROJECT FACTS:
| | |
| --- | --- |
| Availability: | Project open all year round |
| Duration: | Minimum 4 weeks commitment |
| Age Limits: | Minimum 18yrs or older for solo travelers. |
| Minimum Age: | 6 to 17 yrs if traveling with parent/guardian |
| Dates: | Flexible start and end dates |
| Arrival dates: | One day before the start date |
| Airport Arrival: | Airport pickup, meet and greet by GVA partner representative |
| Working Days: | Monday – Friday – 5 days a week, 5-8 hours in a day |
| Weekends: | Travel / Sightseeing NOT included in program cost |
| Accommodation: | Host Family or volunteer house |
| Meals: | Breakfast, lunch and dinner daily |
| Support: | Pre-departure guide, In-country staff available 24/7 |
| Location: | Zanzibar |
| Language: | English |
Trip Highlights
The English Teaching Project aims at the educational development of underprivileged children in Zanzibar

English as a language yields high returns professionally in the tourism-dependent economy of Zanzibar thus assisting students helps better their future 

Volunteers at the project are placed in different primary and secondary schools in and around the region 

During weekends, volunteers can travel around in Tanzania and explore the region with fellow volunteers 
Teach English and other subjects or organize games and arts

Share your love and care with children

Share your culture and empower children

Paint educative murals

Provide support for extracurricular activities
Volunteers will be teaching 5 days a week having Saturday, Sunday, and Public Holidays off. Most of the pupils at our private school have a good command of English yet they may need to practice it further
Overview
Volunteering as an English Teacher in Zanzibar will not only help you to shape the future of these kids, but it'll also sharpen your skills and abilities. The Teaching English Volunteer Program is a great opportunity for volunteers looking for international work experience in the education sector.
Under this project, volunteers are usually placed in different schools – nursery, primary or secondary, to teach basic English lessons to the local students. Zanzibar, being a part of Tanzania, isn't a much-developed region and derives most of its income from tourism. Hence, the knowledge of English is essential.

The schools, under this project, lack the basic infrastructure and inappropriate curriculum. Due to administrative issues like short staffing, proper education is not imparted to the students. All these schools are in need of good educators who can also take care of them and guide them for a better future. English and Maths are the two main subjects that need to be taught. The teachers themselves need help with English speaking and mostly converse in the local language. The classrooms are big and the facilities are extremely basic.

You can make a difference here by supporting the schools, the teachers and the principals, not only by offering assistance in teaching English but also by adding bigger goals to their lives. And this will help you to learn a lot about life as well!
Program Requirements
Volunteers must be 18 years or older at the time of joining the project. Participants should have an open mind and a flexible attitude for working in a new and different environment. Volunteers need to be flexible, open-minded, and have a passion for working with children. You should also be proactive and have the ability to take initiative  All volunteers must provide a clean criminal background check report prior to joining the program.
Dedicating your time, energy, and skills to our teaching volunteer program could be a great way to spend your gap year, career break, or extended vacation. It is also important to mention that neither a specific teaching experience nor a TEFL or TESOL certificate is required to apply for the position.

Your language abilities and enthusiasm are all that is needed to make a difference at our school, where conversational language skills are always in high demand. The impact you have on our students will become obvious as they start to develop their language abilities. Apart from that, you will also be a part of a much larger network of volunteers making a positive and ongoing contribution to the wider communities in Africa.
Volunteer Roles & Responsibilities
Being a volunteer, you'll get to work alongside the English teachers and current staff in leading the classes in improving the pronunciation and conversational skills.

Make daily plans and keep the class engaged. Apart from English, also teach the basics of Maths to the kids.

Focus on the weaker kids, and see how you can help them out. Keep a tab on the growth of your students.

Help in improving the vocabulary of the students. Prepare test sheets for regular assessments.

The best would be to focus on interactive sessions and activity-based learning methods.

Involve the students in 'out-of-the-class' activities, so that they can gain more practical knowledge.

Ask the teachers/principals, in case they need any sort of assistance.
Volunteer Work Schedule
As a volunteer for the English Teaching Program in Zanzibar, Tanzania, your general schedule would be:
Sunday – Arrival at the destination (Zanzibar)

Monday – An orientation session will be conducted by the local coordinator, covering the major topics such as safety, culture, language, places to visit, behavior, food, and other suggestions for things to do in Zanzibar.

Tuesday to Friday – Volunteer work at the placement.

Weekends – Free to explore the city.

Breakfast – 07:00 am onwards.

Working hours at the placement – 08:30 am to 01:00 pm. 

Lunch – 01:00 pm to 02:45 pm (volunteer work post-lunch depends on the requirement)

Dinner – 07:00 pm onwards.
The same work schedule continues from the second week onwards (Monday – Friday).
Note: Please note, the schedule may vary depending on the project the volunteer is participating on.  Zanzibar is predominantly Muslim and can have a significant impact on any participant who happens to volunteer during the time of Ramadan. The participant schedule shall vary during this time of the year.
Living
Find a beautiful abode away from home in Zanzibar. Volunteering Solutions ensures that our volunteers get the "at home" atmosphere while volunteering.
Airport Transfer
As Zanzibar is semi-autonomous and part of Tanzania you can fly straight to Zanzibar (over Nairobi, Kilimanjaro or other international airports) or fly to Dar es Salaam. If you fly to Dar es Salaam you need to take a cab to the ferry to Zanzibar, where you can buy a ticket for the relaxing 40-minute boat ride to the island.  It is very important that we know about your travel arrangements so the coordinators can be ready for you to arrive. Upon arrival at either the airport or ferry terminus, you will be welcomed by the coordinator who will show you around and take you to your accommodation. 
Daily Transport
Most volunteers use the daladalas, which have specific routes from your accommodation to Stone Town and onto other destinations. It can be time-consuming but also a great start of the day to experience transport the local way; life stock and big mamas all squeezed into a small minibus. In the first two days, the coordinator will take you to your project and pick you up, but after that, you will need to do it by yourself. 
The daladala is very cheap and runs often so fit in and do things like a local!
Orientation
All volunteers are given an orientation about their project and the location by the local coordinator. 
Accommodation
Accommodation is offered with host families in the safe area of Mbwemi just outside Stone Town and close to the airport. You can expect to share a room with other volunteers. We typically use 3-4 host families in the area for our volunteers to stay.
Two of the host families are located next to each other with a local bar within walking distance.
When we receive larger groups of volunteers they are accommodated in our volunteer house. The volunteer house is a fairly large Zanzibar home with a living room/dining room, as well as a kitchen. It accommodates up to 8 volunteers in 2 different rooms and 2 bathrooms. The house has a garden with a secure wall and gate to make sure you are as safe as possible.
Bedding is provided in the form of sheets, but bring a towel for personal use. Mosquito nets are not provided so you can bring one if you choose to. If you don't have enough space in your suitcase; it is cheap to buy things locally.

The accommodation can be basic, standards are very different in Zanzibar then back home most probably, and showers do not have hot water, but the weather is hot enough to shower cold!

Within easy reach, you will find the main road with food stalls to buy fresh juices, Mandazi (local doughnuts) and any other basic needs. Zanzibar has the most amazing fruit selection and you will find yourself spoiled with the availability and affordability of fruit on the island. Within 20 minutes walk you can find 2 popular bars with fast internet and a supermarket with some imported (and expensive) goodies to treat yourself every now and then.
Meals
Meals are provided 3 times a day by your host. Meals are based on local ingredients and will include meat, chicken, seafood and vegetarian dishes, as well as the favorite 'chipsi' (fries) and pancakes. Breakfast will generally consist of tea and coffee, toast, jam and peanut butter with some fruit while lunches and dinners are cooked meals which you can eat after work and at your own preferred time.
During your Free Time
Volunteers will have a lot of free time during the weekend. During weekdays too, your evenings would be free. Some of the activities that you can get involved in during your free time in Zanzibar.
Visit the old forts, museums and beautiful streets of Stone Town

Eat all the seafood you can at Forodhani Gardens in the evening

Go on a spice tour to see how cloves, nutmeg and much more are grown

Go swimming in crystal clear water

Snorkel or dive to some of the most beautiful reefs of the world.

Relax and live the island lifestyle!
All free time activities are at the participant's own expense.
What are you paying for?
24 hrs Assistance and support from Staff

Personal collection upon arrival at the airport or ferry.

First day introduction at the project and surroundings.

Accommodation (shared rooms)

Meals (3 meals a day)

Guidance and supervision during your stay

Offer of tours and outings in the weekends (extra costs can apply) 

Travel & Medical Insurance (Available at an extra cost)

Certificate Of Completion (Upon Request)