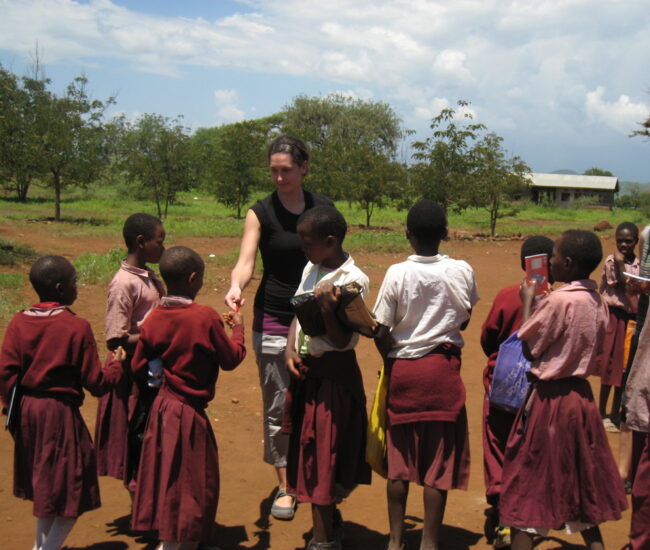 Not every family is cut out for a volunteering trip abroad, but you're not like every family – you're seeking a meaningful experience that allows you to give back to social causes, experience a new way of living, and provide your family with a refreshed global perspective.
When it comes to planning group volunteer trips for families, we guide you every step of the way and tailor our approach and recommendations based on your family dynamic. Whether you have young children or teenagers, we'll find the perfect program to fit your skills and interests.
Volunteer organizations are always looking for helping hands. The days we thought volunteering was also for single people in their twenties, are long gone. Volunteer organizations are now also welcoming those with families and children. What's better than sharing the volunteer abroad experience with those close to you? Volunteer as a family and gain awareness about what's going on in the world and instill the importance of contribution amongst your kids early on.
We take a budget-friendly approach to family trips and we can customize them to suit your group based on the destinations you're interested in.
Spend a quality time as a family and share your love and passion with others
Work in a variety of volunteer service projects and make a difference
Explore new cultures, lands, natural wonders, and tourist attractions
A highly rated, safe, and affordable family volunteering program starts at $80.
Are you passionate about helping others? Do you want to teach the value of humanitarian service work to your children? Are you looking for a highly rated, safe, and affordable family volunteering opportunity? Then you are in the right place!
Since 2010, Amani hostel's family volunteering programs have been offering incredible family volunteer vacations abroad in Tanzania. In our family volunteer abroad trips, you and your children will live with a host family; work in a variety of service projects that range from working in orphanages and teaching at local schools to nature conservation and wildlife care.
Regardless of which family volunteer work abroad project you choose, your whole family will have the opportunity to become immersed culturally, help others in need, travel, and explore together. You will make a grand in the world difference together!
Family volunteer vacations can help give your children a greater appreciation for travel, helping others, or protecting the environment. We offer a range of family-friendly volunteer opportunities abroad.
Families join us on our Trips, where a range of age demographics allow both the adults and children to have contemporaries. With us, you can expect:
A safe and guided experience with 24/7 support from our local staff
An experiential learning experience where your family learns by doing
A family service vacation where you make a real impact through your work
To explore a different country and learn about the local culture first-hand.
What do I need to know about volunteering with my family?
With dedicated in-country staff around the world, we can provide your family with a hassle-free volunteering trip. We provide:
Visa advice
Accommodation
Three meals a day
Project activities
In-country airport pick-ups and drop-offs
Ground transportation to and from your project
We will also support families with children of various ages:
We can accept volunteers aged four years and older with their families. Contact us if your child will be under the age of four at the time you want to travel and we can discuss the options available.
Ages 4-14: Children between 4-14 years old can be accommodated and work with their parent(s) for a reduced fee. Generally, project fees for children are about 70% less than the listed adult price.
Most age restrictions of 16+ on projects are for solo travelers. In many cases, if parents are traveling with them, this does not apply.
Ages 15+: If your child is aged 15 or older, he/she may volunteer without the accompaniment of a parent at the standard per person price.
We offer a 5% discount to immediate family members traveling together. This discount applies to adults and children aged 15+.
Volunteering with your children is an exciting and different way to help shape their view of the world and broaden their horizons. We cater for families with young children too, so we can accommodate kids as young as six years old on our volunteering opportunities for children.
Throughout your family volunteering abroad timeframe, Amani hostel's local team will guide and support you to make your family volunteering trip abroad experience safe, memorable, and rewarding. Hundreds of families already joined our family volunteer abroad programs and have returned home with the memories of a lifetime. Join one of our overseas family volunteer trips to and not only bond with your family but with the world.
Create unforgettable memories with your family
Share with your children the joy and wonder of giving selflessly
Discover untouched lands and vibrant cultures
Make a huge difference to the lives of those in desperate need
Get started changing the world with family volunteering programs as low as $99!
Spending time with your family is one of life's great joys; but often, going on a vacation with your loved ones means that you don't have the time or the resources to really connect and give back to the global community.
Our family volunteer abroad programs not only help you to ignite your passion for positive change, but also give you and your family a unique opportunity to explore new lands, foster life-long friendships, and learn valuable life skills.
No matter where your next destination is, our family volunteering programs will turn your vacation into a life-changing experience. Our highly affordable programs range from wildlife care to helping in schools and orphanages.
By staying with warm, friendly host families your own family will have the opportunity to learn from unique cultures and share memorable moments. Of course, there will also be plenty of time to both relax and to visit the top tourist attractions.
We're here to make sure that your overseas family volunteer trip is both wonderful and safe. From the moment you start planning your trip to when you arrive home, we're with you every step of the way.
What is Family Volunteering?
Volunteering is the act of dedicating time to a project that is focused on improving the circumstances of a community or the environment.
Family volunteering enables families with kids to join the projects so they can share the volunteer experience and help the community or the environment together with their loved ones by their side.
The Pros and Cons of Family Volunteering
If you're determined to make a difference during your next holiday, why not integrate a family volunteer program into your holiday plan? This way, you get the best of both worlds. You get to spend quality time together while experiencing the incredible benefits of giving back to others.
Before you head off to book your first family volunteer trip, let's take a closer look at the potential pros and cons:
Pros
The opportunity to volunteer abroad and contribute to a meaningful cause together with your family and those you care about most.
Create awareness about what is going on in the world among children.
You get the chance to connect with the local community together with those close to you. It is a great opportunity for cultural interchange.
Participants will see their travel destination in a different.
Benefiting from the positive aspects of volunteering without sacrificing time with your family.
Meeting and connecting with other like-minded individuals and their kids.
Cons
Not everyone may be as enthusiastic about dedicating their time to volunteering.
It may be tricky to decide on a volunteer program that everyone is excited about.
Depending on the age of the children, some projects may not be accessible.
Volunteering abroad can have a powerful effect on people. If you have younger kids, it may require you to be supportive of their emotions.


Why opt for Family Volunteering?
If you're eager to volunteer but worried about leaving your loved ones behind, then family volunteering is right up your alley.
You will gain experience in volunteering, contribute to a meaningful cause, and not only learn a great deal about the challenges others are facing on a daily basis but most likely also learn a lot about your family.
How will you make a difference?
By introducing children to volunteering, you will be setting a precedent for them to carry on volunteering in the future. The world really needs more volunteers which is why volunteer organizations are creating programs where volunteers can contribute as a family.
The most important aspect of a family's volunteering program is the cultural interchange and social contact between your family and the local community. Gaining awareness about the volunteer destination will change the way your family views the world.
Top 5 benefits of volunteering as a family
Join one of the family volunteering projects and you will help the communities of your project destination while you embark on an unforgettable adventure with your partner and kids. Volunteering is usually linked to positive things. Let's take a closer look at some of the benefits you can expect:
Valuable Learning Opportunities
choosing to volunteer with your loved ones will open up a new world. You will learn about the country and culture and interact with the local community. Learn from them and give back by helping where you can. Do this together as a family and you'll be sure to learn a great deal about each other.
Meet new people
You will meet other volunteers and travelers who are also volunteering with their family. What a great opportunity to connect with like-minded fellow volunteers. Build meaningful relationships with the other families and the locals. Take the time to allow cultural interaction to unfold.
New Experiences
this is a brilliant way to expand your perspective on life. Issues that seemed huge problems before, may seem trivial after your volunteer experience. Become grateful for the simple things in life and instill these values in your children by sharing the volunteer experience with them. Rest assured they will come back with a different worldview.
Health Improvements
Traveling and contributing are two ingredients that practically guarantee happiness. Supporting a meaningful cause will give you a sense of purpose as a family. A happy family tends to be a healthy family. Do a family volunteering and see what kind of benefits you will enjoy as a family.
Travel
This is your chance to explore and discover some of the most interesting places the world has to offer together with your family. You'll be doing this while contributing to a meaningful cause. What could be more exciting than doing this together?
How do I get started with Family Volunteering?
You're ready to do a family volunteering project but you're not quite sure where to start? First of all, have a look at the different programs across the globe, and pick a few programs that have caught your attention.
Once you've done that, let's take a look at the first 3 steps which will send you on your way to volunteer abroad with your family:
Check whether there's a match between your family and the project by looking at their requirements. Age may be an important factor here.
Take a look at the location of the project and decide whether it would be a place your family is excited to go to.
Get in touch with the organization and see whether your expectations and schedules match up.
Once this is sorted. Let's take a look at the practical steps:
Insurance (Health & travel)
We recommend getting both health and travel insurance. In fact, this is even a requirement for all volunteer programs abroad. Get in touch with your program contact person to find out if an insurance plan is already in place for volunteers.
Visa, Passport, and Documentation
Once you know your destination, take the following 3 steps before setting off on your life-changing adventure!
Look into the visa requirements for the country your family will volunteer in
Make sure everyone has valid passports considering the requirements of the host country
Make sure you prepare the correct documents to fulfill the visa application
The world is waiting for more families to volunteer. Take this opportunity to contribute to a meaningful cause abroad and help as a family. Be sure this international experience will undoubtedly make your family bond even stronger than it already was.
If you're short on time but keen to volunteer, we have just the thing for you. Many of us dream of making a difference in the world but are simultaneously working on careers or building a family that also requires our attention.
What if we told you that you can do it all? There's no need to quit your job or do anything drastic but you can still make a meaningful difference.
Identifying the need for projects that are accessible for limited time periods, Volunteer World has identified the need for short-term volunteer projects. Experience all the benefits of volunteering without any of the sacrifices and volunteer for one of the non-religious mission trips on the website.
At Volunteer World, we believe that volunteering should be accessible to everyone. There are countless volunteer organizations out there and they are all in need of enthusiastic volunteers who are willing to lend a hand to their projects. There's no need to give up everything to be part of something meaningful. Volunteering is now for everyone willing to help out and spare a few days of their time.
Continue reading to learn more about non-religious mission trips and how you can help.
What is the difference between volunteering abroad and mission trips abroad?
Volunteering is when someone decides to dedicate time to a project that is focused on improving the circumstances of a community or the environment. Volunteer organizations generally put in a lot of work to train volunteers. This is why some projects require volunteers to stay for at least a few weeks.
There's a shift going on however in the volunteer landscape with projects welcoming volunteers for shorter periods of time.
These are also known as non-religious mission trips.
Students, people on a sabbatical or retirees may be able to dedicate themselves to a project for longer periods of time but there's a large group of the population for who this simply isn't an option.
Mission trips are short-term volunteer trips that can be done for 1-4 weeks. This gives everyone the opportunity to volunteer and experience the incredible benefits of a volunteer trip.
Volunteer on a mission trip abroad and join a meaningful cause. Being busy doesn't need to hold you back from volunteering. Whether you're between jobs or taking a long-awaited holiday, volunteering is still an option.
Projects abroad are aware of the time constraints and have created volunteer opportunities where volunteers can make a difference even if they can't do it for weeks at a time.
What kind of mission trips are there?
The point of a mission trip abroad is to gain volunteer experience during a short-term period and contribute to one of the projects.
There are so many possibilities available that it will come down to where you want to go and what skills you have to offer. Here are some of the possibilities:
Teaching children or young adults
Work at an animal conservation center or sanctuary
Cultural immersion programs
Community support
Youth development
Environmental conservation
There are countless options. It's a matter of preference and skills that will determine where you will do your non-religious mission trip.
How to choose the right mission trip program?
The most important aspect of choosing a great volunteer trip program is that you do enough research on the different volunteer organizations and try to answer the following questions:
What does the organization stand for?
What is their objective and how are they trying to achieve it?
How the funds they receive are spent?
How do you think you will contribute?
What will be the effect of your volunteer work?
What are the best mission trip organizations?
Take into account the possible negative effects. Read up on the organization, read reviews and ask previous volunteers about their past experience with the organization.
There are some great agencies and non-profit organizations that are doing very responsible work.
Be careful when you choose to volunteer with children. Do your due diligence prior to signing up. There are organizations however that are doing more harm than good. It's important to take into account that we have attempted to screen these organizations but you make the final call. Choose wisely and you will be in for an incredible experience while supporting a meaningful cause.
Best places for mission trips abroad
Embark on a volunteer trip and the world is just a click away. Volunteer organizations are aware of the limited time most people have on their hands and are welcoming short-term volunteers. Take this opportunity to explore the world and give back to less fortunate communities. Whether you're adventurous and want to feel the rawness of Africa or prefer the laidback lifestyle of Asia, there's something out there for everyone. Volunteers who are afraid of a culture shock can also apply for opportunities closer to home.
Unlimited volunteer opportunities are awaiting your support. Start small, start with a short volunteer trip and see what it brings.
Top 5 benefits of international mission trips
It's hard to name drawbacks when talking about volunteering abroad. It's almost always associated with feelings of positivity. Both travel and volunteering allow people to get out of their usual environment and open up to new experiences.
Join one of the mission trips and you will help the communities of your travel destination. Let's take a look at some benefits volunteering for a non-religious mission trip may have in store for you:
Valuable Learning Opportunities
Choosing to volunteer will open up a new world. You will learn about the country and culture and interact with the local community. This will enable a deeper understanding of the people and their situation. Learn new skills during the volunteer program and witness the opportunities that will unfold because of it.
Meet new people
During a volunteer trip, you will meet other volunteers and travelers who share your taste in activities and interests. You'll be connecting with like-minded fellow volunteers and locals. This is a wonderful opportunity to build meaningful relationships and allow cultural interchange.
New Experiences
This is a brilliant way to expand your perspective on life. Issues that seemed huge problems before, may seem trivial after your volunteer experience. Even if it was for a shorter time span. New life experiences make you stronger and will empower you for the future. A mission trip may inspire you to do more volunteer work in the future.
Health Improvements
Traveling and volunteering are two ingredients that practically guarantee happiness. Research has proven that traveling is beneficial as it puts people in a completely different environment which forces different parts of the brain to be used. On top of that, supporting a project or program will give you a sense of purpose which is a major happiness influencer. Happy people tend to be healthy people. Do a mission trip and notice the effects it has on you!
Travel
This is your chance to explore and discover some of the most interesting places the world has to offer. You'll be doing this while contributing to a meaningful cause. What are you waiting for? Get out your luggage and start packing for your adventure abroad!