WESTERN SAFARIS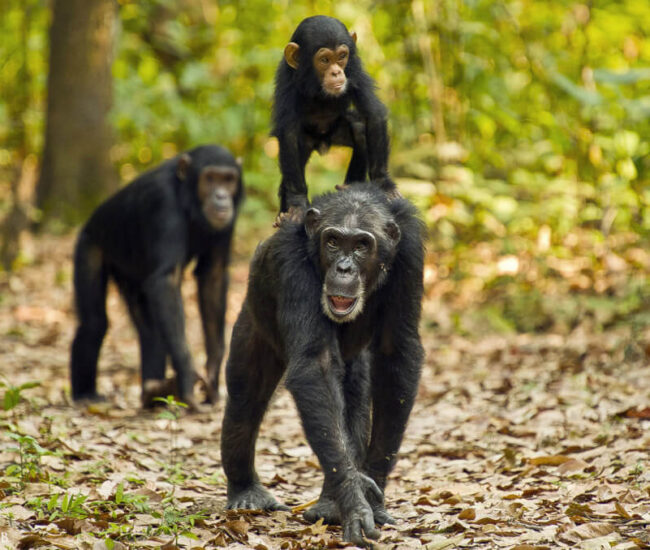 Western circuit parks of Tanzania through Katavi National Park, Mahale Mountains National Park, Gombe Stream National Park, and Chimpanzee Trekking Tanzania offer the best and rarest chimpanzee (Chimp) tracking Tanzania
Tanzania has so much to offer! To make it easier to plan your trip, Tanzania has been divided into regional circuits – all offering breathtaking landscapes, intriguing wildlife and a plethora of exciting safari activities! The two main Tanzania safari circuits are northern and southern, but to give you a comprehensive guide, we will also cover the western safari circuit as well as the coastal circuit
The Western Circuit embraces the parks along Lake Tanganyika, the western border of Tanzania with the Democratic Republic of Congo (DRC). The vast space in a remote natural location makes the circuit worth a visit. Gombe Stream National Park was made famous by Jane Goodall's research on its chimpanzee population and subsequent habituation. Mahale Mountains National Park further south, on the shores of the gin-clear waters of Lake Tanganyika, is a more authentic chimpanzee experience and highly recommended
only a few visitors who travel in Africa ever breach to Katavi, perhaps the most inaccessible and unspoiled wildlife haven to visit on an untouched tour of Tanzania with us. It takes 3-4 hours of flight time from Arusha or at least 24 hours of uncomfortable driving to where, deep in virgin territory, spectacular numbers of Cape buffalo, giraffes, antelopes, and zebras dodge predatory lions, leopard, cheetah, hyena, wild dogs and jackals. 
The park is dramatically changeable: peaceful, floriferous, and lush, with colorful butterflies and speckled birds in the rains, but harsh and violent as water becomes scarce for the hundreds of battling crocs and hippos that vie for a spot in a muddy wallow. Equally, remote western national parks, only accessible by air and boat, Mahale and Gombe lie on the coast of Lake Tanganyika.
Tanzania has so much to offer! To make it easier to plan your trip, Tanzania has been divided into regional circuits – all offering breathtaking landscapes, intriguing wildlife, and a plethora of exciting safari activities! The two main Tanzania safari circuits are northern and southern, but to give you a comprehensive guide, we will also cover the western safari circuit as well as the coastal circuit!
The western safari circuit is where you get to explore the intriguing jungles of Tanzania to meet chimpanzees. But, it's not all about the primates. Here, you can also find rare roan and sable antelope species as well as hippos, and giraffes and if you're lucky, you can spot elephants, leopards, zebras, and maybe even a lion, too!
Although not the primary reason for visiting Tanzania, the western circuit promises a different kind of adventure and an exciting side trip to any wildlife safari. Since this area is very remote, the only way to get here is via light aircraft or boat. Flights may start from Arusha, Dar es Salaam or even Zanzibar.
NATIONAL PARKS IN WESTERN CIRCUIT.
The chimpanzees are the main attraction at Gombe Stream. These remarkable mammals, habituated to human visitors, were made famous by the pioneering work of Jane Goodall, who in 1960 founded a research program that now stands as the longest running study of its kind in the world.
The majority of wildlife to be found at Gombe Stream is primates. In addition to the famous chimpanzees, you may see olive baboons, these have also been researched since the 1960s and are exceptionally habituated to humans. You may also spot the red-tailed and red colobus monkeys; the latter is regularly hunted by chimps and so they stick to the forest canopy.
Leopard and bushbuck are also residents in the dense forest, along with fish eagles and palm-nut vultures, which are often seen flying overhead.
Gombe Stream is the perfect place for a walking safari, allowing you to cool off along the way with a dip in one of the many streams that criss-cross the park
4 Days / 3 Nights Chimpanzee Tracking in Gombe
Day 1 :
Arrival in Kigoma
Pick up from Kigoma Aistrip and transfer to hotel at the lake shore for the night. Preferred Kigoma Hilltop Lodge
Day 2:
Boat to Gombe/ Chimpanzee Tracking
After breakfast you will be transferred to Gombe stream national Park by boat, chimpanzee tracking through the park
Late afternoon check in at your lodge in the park, preferred Gombe Forest Lodge.
Day3:
Full Day Chimpanzee Tracking
Full day Chimpanzee tracking, an armed ranger accompanies the group through the park en route you will climb Kakombe waterfalls. Afternoon return back to lodge for the night.
Day4:
Departure
Transfer to Kigoma for flight back to Arusha/Dar es Salaam.
4 Days / 3 Nights Chimpanzee tracking in Mahale
Accessible only by boat or by air, Mahale Mountains National Park is known to be among the most isolated and beautiful parks on the African continent. With dots of isolated, golden sandy beaches framed by jungle-covered peaks, Mahale covers 1613 square kilometres of rugged terrain along the eastern shores of Lake Tanganyika.
Day1:
Arrival in Mahale Mountains National Park
Arrival for lunch at the lodge followed by afternoon chimpanzee tracking through the forest, in the evening return back to the lodge for the night.
Hotel: Kungwe Beach Lodge
Days2:
Chimpanzee Tracking in Mahale

07:00am,Breakfast at the Lodge
08:00a,Chimpanzee Tracking in the forest in the afternoon Hot Lunch at the Lodge followed by a Boat Safari for Bird Watching and Game Viewing ,
Late afternoon return to lodge for Dinner and overnight at the Lodge
-Kungwe Beach Lodge
Day 3:
Mahale Mountains National Park
07:00am; Breakfast at the Lodge
08:00am; Chimpanzee Tracking in the forest ,
12,30pm; Hot Lunch at the Lodge ,
03,30pm; Fishing on the Lake ,Dinner and overnight at the Lodge ,
Overnight at Kungwe Beach Lodge!
Day4:
Departure
07:00am, Breakfast at the Lodge
08:00am, Relax on the beach 12:00pm, Transfer to the Airstrip by boat with lunch boxes 13:15H,Shared Charter to Arusha 17:30H,Arrive Arusha
Katavi National Park.
Katavi National Park is the 3rd largest national park in Tanzania and offers visitors a personal and exclusive safari experience in a wild and untouched area of Tanzania. This is primarily due to its position in the far south west of the country and the associated cost and time involved in reaching the park.
For those who do take the time to visit, an unforgettable safari awaits them. Being one of the least visited national parks is a bonus for the few who make it, not a reflection on the experience to be had there it is a place for those seeking the Africa of decades ago.
Katavi is predominantly high plains grassland, which becomes swampy wetland during the rains, interspersed with fringes of miombo woodland and scattered acacia. It has 2 lakes, Lake Katavi in the north and Lake Chada in the south, fed by the Kutuma River. These lakes are cracked open plains during the dry season from June to November and fills up only in the rainy season.
The Katavi National Park is at the heart of one of the biggest and richest wildlife areas in Tanzania, but its remoteness makes it far less visited than its popular neighbors. Only several hundred people have been recorded visiting Katavi every year.
The park offers incredibly diverse scenery, encompassing immense wetlands, roaring waterfalls and original miombo woodlands, where the sable antelopes often hide.
Vital water sources attract a plethora of wildlife in the dry season when one can watch the lions, leopards, and wild dogs stalking their prey, watched by patiently waiting for vultures who share the trees with fish eagles, storks and vervet monkeys.
Katavi National Park got its name from the Wabende tribe spirit, 'Katabi', and the story says that this spirit lives near Lake Katavi in a twin pair of trees. 
Introduction.
The western safari parks of Katavi and Mahale are the "road less traveled" in safari circles. Due to the relative costs and inaccessibility of the region (a 4hour flight from Arusha or a night stopover from the south), only those both rich in funds and time tend to be able to get out here…but this is a huge shame as this really is an outstanding region of Africa and, in our opinion, really deserves to be ranked in the all time great trips on the continent. Moreover, with camps such as Katavi Wildlife offering great value for money, we would highly recommend spending a week here in season and defy you not to see at least three things that you wouldn't see anywhere else in Africa! It is that good!
When to go
Arguably the ultimate month to head to Katavi National park, to see the famous denning crocodile and the hippo pool, whilst also giving yourself the best chance of seeing the vast buffalo herds that are famed here, is from the end of August until the end of September. This being said, the later in the dry season you go, the more likely it is to see the hippos and crocodiles but the less likely to see the buffalo. This being said, if you head to the region from the middle of June until the middle of November you won't be disappointed.
How to get there
Getting to and from the Western safari parks is definitely the biggest challenge both for the travel time and also the cost. Currently there are two routes out and back. The first is using Arusha, in the north, as the starting point and flying with Nomad Safaris on their shared charter flight on Mondays and Thursdays. Using Nomad does mean that you need to stay in at least one of their properties, but the flight is in the region of 4 hours and it pretty simple. The second option is to overnight in Ruaha National Park and then fly using Safari Airlink, again, on Mondays and Thursdays. While this adds an extra day to the itinerary as you need to fly from Dar es Salaam to Ruaha the night before, you are able to then choose which properties to stay in and you can extend the safari by adding in time in one of the other southern parks. Please have a look at the links below for more information on the parks over here.
Katavi National Park Tanzania
Size: 4,471 sq km (1,727 sq miles)
Established: 1974
Distance from Arusha: over 1,000 km (620 miles) – about 4 hours flying time
Description
Katavi National park is the third-largest park in Tanzania. It is also by far one of the least visited in the country, making it a truly untouched wildlife paradise. It is located in the west of Tanzania and is quite hard to access by road, so the easiest way to and out is by charter flights.
The park is primarily fed by the Katuma River which in the rainy season – April and May – transforms the park into a wetland. Lake Chada and Lake Katavi are both seasonal lakes that are situated within the park boundaries. In terms of vegetation, the park hosts a varied mix of bushland, Miombo forests, riverine forests as well as grasslands.
Highlights
For those lucky enough to visit Katavi, the dry season – June to October – is by far the best time to see animals. The Katuma River is one of the few sources of water in the dry season and is the lifeline for creatures both large and small when they congregate along the river to drink and bath. Then, when the last lakes and swamps are drying, up to a thousand hippos at times would huddle together for that last bit of water. Large crocodiles can be seen basking in the sun or in the remaining mud pools.
Katavi's dramatic scenery is as varied as it is pristine. Flood plains of thick reeds and dense waterways are home to a huge population of hippo and varied birdlife. In the woodlands to the west, forest canopies shroud herds of buffaloes and elephants. Seasonal lakes fill with dirty colored water after the rains and animals from all corners of the park descend in them to drink. The park is also home to the rare roan and sable antelope species, and it is a must-see for visitors intending to explore the wilds of the continent.
Isolated, untrammeled, and seldom visited, Katavi is a true wilderness, providing the few intrepid souls who make it there with a thrilling taste of Africa as if it must have been a century ago.
Tanzania's third-largest national park; lies in the remote area southwest of the country, within a truncated arm of the Rift Valley that terminates in the shallow, brooding expanse of Lake Rukwa.
The bulk of Katavi supports a hypnotically featureless cover of tangled Brachystegia woodland, home to substantial but elusive populations of the localized eland, sable, and roan antelopes. Nevertheless, the main focus for game viewing within the park is the Katuma River and associated floodplains such as the seasonal Lakes Katavi and Chada. During the rainy season, these lush, marshy lakes are a haven for myriad waterbirds, and they also support Tanzania's densest concentrations of hippos and crocodiles.
It is during the dry season, when the floodwaters retreat, that Katavi truly comes into life. The Katuma, reduced to a shallow muddy trickle, forms the only source of drinking water for miles around, and the flanking floodplains support game concentrations that defy belief. An estimated 4,000 elephants might converge on the area, together with several herds of 1,000-plus buffalo, while an abundance of giraffes, zebras, impalas, and reedbucks provide easy pickings for the numerous lion pride and spotted hyena clans whose territories converge on the floodplains.
The Katisunga plains in the heart of the park attract large numbers of wildlife, and it is one of the few parks where visitors can catch a glimpse of both the roan and sable antelope in the same place. Other animals grazing here is zebra, hartebeest, eland, giraffe, and defassa waterbuck. Katavi is also one of the last parks that boast massive herds of buffalo; some herds easily reaching a thousand animals or more. A healthy population of roughly 3000 elephants also resides in the park. Predators such as cheetahs, hyenas, jackals, and servals are also present in the area and the resident's feelings of pride of lions are always around looking for their next meal. Leopards also call Katavi home.
With over 400 species of birds, Katavi is a great place for birdwatchers. Large flocks of storks like saddle bills, open-billed, and spoonbills as well as African fish eagles, Bateleurs, lilac-breasted rollers, crested barbets, and paradise flycatchers are but a few on the long list of birds in Katavi.
Activities
Guests can enjoy game watching and bird watching on game drives. Lodges in the park also offer walking safaris and night game drives, so you will be able to experience a larger variety of animals and plants more intimately.
At a glance…Mahale NP
Size

 1,025 square miles

Location

 On lake Tanganyika, Western Tanzania

Recommended time

 3 or 4 nights

Time to visit

 June to Nov & Jan to Mar

Safari Activities

 Walking with chimpanzees

Topography

 forested mountains and freshwater lake

Main species

 chimpanzees
Where forested hills plunge into crystal waters, this is indescribably beautiful!
n the shores of Lake Tanganyika, the verdant forests and angular slopes of the Mahale Mountains drop vertically to sand covered beaches and crystal clear waters. The lodges that nestle on the shores of Lake Tanganyika with this stunning backdrop are reason enough to come to this wondrous place…but add in some of the best chimp viewing on the planet and this becomes a one in a million!
As you may tell, the Mahale Mountains National Park and Lake Tanganyika are very highly rated in our book. Everything about coming here is remarkable and memorable in the best senses of the word. With a world so full of people and places so easy to access, Mahale is one of those that defies the trend and, once you have visited both, they stay with you forever and allows you the boast of being only one of a handful that have stepped foot. High praise indeed, but warranted in our opinion.
As you fly in past the mist-covered slopes of the Mahale Mountains, looking down onto the dense forest that covers the area, you glimpse Lake Tanganyika, the world's second largest and second deepest lake. Landing on a small runway in the middle of a local village you are greeted to singing and laughter, as each arrival is an occasion.
Currently there are only two camps of any note that offer accommodation along the shoreline, and both share access to the troop of habituated chimps that live not far inland. The chimp trekking itself can be easy of hard, depending on the movement of the troop and the flowering and fruiting of the many trees in the forest. On the whole, however, a stay of 3 or 4 nights will allow for at least one viewing which is a remarkable experience in itself as, today, there are only two or three places left in the world where chimp trekking with habituated chimps is possible.
Recommended for: 
Birdwatching
Honeymoon
Solo Safaris
Tanzania Honeymoon
Itineraries: 
MAHALE CHIMPANZEE TREKKING 4 DAYS
Mahale is a remote and untrammeled paradise located 130 km south of Kigoma town on the shores of Lake Tanganyika. It covers 1613 sq km and is dominated by the Mahale Mountain Ridge which rises dramatically from the crystal-clear waters of Lake Tanganyika. Mahale Mountain National Park is reached by shared charter flight from Katavi, Ruaha, Dar, Arusha, Selous Game Reserve.
TOUR ITINERARY
Arrival Day
Arrive in Tanzania
You will be picked up at the Kilimanjaro International Airport and transferred to your hotel in Arusha town; you will meet your guide who will brief you on your upcoming safari. All the basic information about your safari will be given to you by safari guide.
Day 1
Arusha to Mahale Mountain
Pick up from a hotel in Arusha, then be transferred to Arusha airstrip for departure to Mahale Mountains. You will be picked up on arrival and be transferred to the camp for lunch. Afterwards you will proceed for Chimpanzee tracking in the forest. Observing the chimpanzees in their natural habitat, one cannot help but be touched by their natural grace and anthropomorphic features. Dinner and overnight are at Mango Bandas.
Meal: Breakfast, Lunch & Dinner
Day 2
Chimpanzee Trekking
After breakfast we will have an 08h00 chimpanzee tracking in the forest. The hike takes you to the chimp's habitation areas that are accessible and not strenuous. However being in good physical condition will ease the strain of walking through the jungle. Up close, observing the endangered primates is an once-in-a-lifetime experience. Meals and overnight will be at Mango Bandas.
Meal: Breakfast, Lunch & Dinner
Day 3
Chimpanzee Trekking
You will have breakfast at 07h00, and then at 08h00 go for chimpanzee trekking in the forest. You will visit waterfalls inside the park, go birding watching, and in the evening time swim in the Lake Tanganyika followed by a bonfire on the beach. Meals and overnight will be at Mango Bandas.
Meal: Breakfast, Lunch & Dinner
Day 4
Mahale to Arusha
You will have breakfast in the morning. At 08h00 pick up and transfer to Mahale airstrip for departure by shared charter flight back to Arusha town. You will be metfor assistance to connect onward for an international flight.
Meal: Breakfast, Lunch & Dinner
Departure
Moshi – Airport
Rest in the hotel and transfer to the airport.
Hotels check out is 11:00am. In case you need a late check-out because of an evening flight, you have the option to extend your hotel stay till 6:00 PM for an extra fee
WESTERN CIRCUIT DEALS.