MARINE CONSERVATION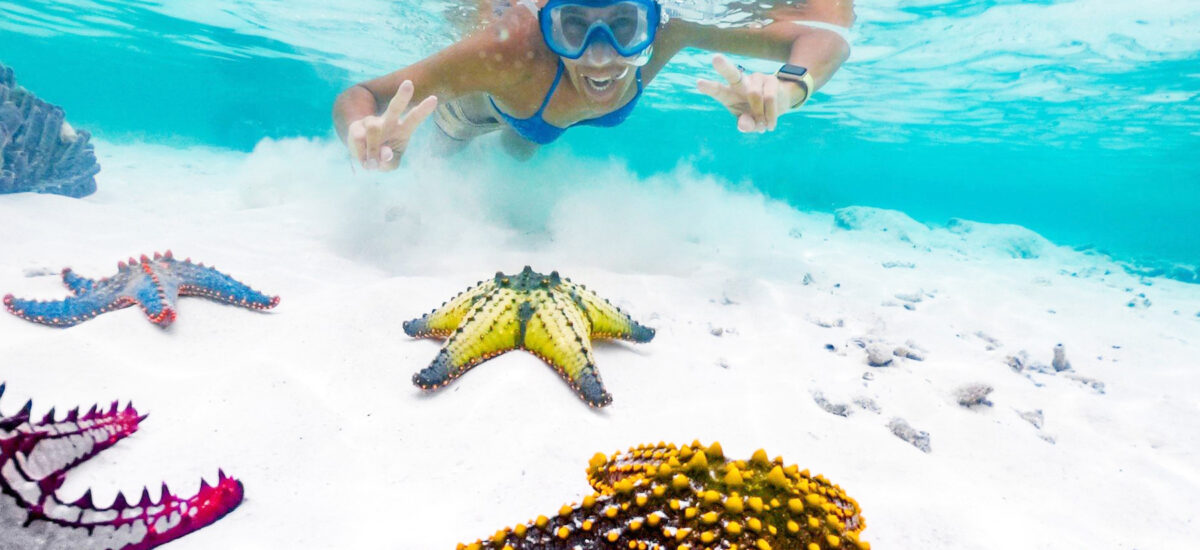 Get ready to make a difference and conserve one of the world ́s largest reef barriers by protecting the marine ecosystem and collect valuable data while learning how to dive and snorkel in Mexico ́s most beautiful spot!
Location: Nungwi and Jambiani in Zanzibar
Duration: 4 – 12 weeks
Our main goal is to help protect and conserve our ecosystems so to ensure their survival, by collecting valuable data to assist decision-makers in coastal zone management. Different human factors such as unsustainable fishing methods, unregulated property development, unchecked tourism activities, and climate change have been affecting this area…
Since 2018, a new coral illness, known as a white band, has caused fatalities in over 40% of Caribbean coral in one year. We help by monitoring the corals and the fish through dives and snorkeling.  The data on fish we gather helps us determine the abundance and size of fish and understand the changes in the fish community dynamics, while the data on coral is used to understand the rate of recovery of the reef and its overall health.
Our volunteers also participate in several other initiatives looking to conserve the environment such as coral restoration in laboratory and in marine coral nurseries, sea grass ecosystem monitoring, tourist impact assessment on the Coral Reef, incidental sightings of marine mega fauna recording, lionfish population studies, weekly beach cleans and outreach work to assist the community and promote conservation practices.
If you are passionate about protecting the world's oceans and preventing environmental issues like pollution, while learning how to dive and conducting coral reefs research in the Nungwi, Zanzibar this is the ideal project for you!
Volunteering on this project will give you a real chance to learn hands-on conservation techniques and gather pivotal data to monitor the health of the marine environment and support active conservation measures in the area.
You will be snorkeling and diving, as well as joining our sea turtle monitoring project (seasonal) and minimizing marine plastic pollution by collecting waste from local beaches and the ocean floor and then recording data on the waste collected.
Working hours vary according to the needs of the project, but you can expect to work 6-8 hours per day, Monday to Saturday. You may work morning, afternoon or evening shifts depending on the need, so get ready for the same late nights and morning shifts.
Keep in mind we won't be able to confirm the exact location of your project until you arrive in the country and go through your orientation in Zanzibar. Most volunteers head to the Nungwi, Zanzibar but it may change depending on seasonal needs and turtle's ́movements. In some occasions, they also head to Jambiani.
You will be living in paradise! Whether your project takes you to the Zanzibar beaches, you will live in a paradisiac beach surrounded by nature in one of the greenest countries in the world that offers an incredible amount of activities for you to enjoy during your free time. So take in the views and have an amazing experience!
You will get the chance to collect valuable data on sea turtles and educate the local community about them and the whole marine ecosystem
There are loads of activities you may be involved in and you'll have the chance to experience a lot during your stay! You may take part in nightly beach patrols, tagging turtles, relocating nests into hatcheries, counting eggs and turtles, beach cleanup efforts, and other support activities such as community education programs. Volunteering in this project involves quite a lot of walking through the amazing beaches while going on patrols looking for turtles so it can be a bit physically demanding and you should have a certain level of fitness so to be able to walk on a daily basis for a couple of hours.
You will be supported by environmentalists, biologists, and other local professionals who will be eager to share their wealth of knowledge with you and ensure you leave this project with a new set of skills and information!
You will help reverse the risk of extinction of sea turtles by taking an active role in protecting both adult and baby sea turtles.
This project starts every Monday throughout the year. We generally ask for volunteers to arrive at this project the day before on Sunday and you can volunteer from 2 weeks up to 12 weeks. Projects last day is on Saturday.
(This project remains open over the Christmas period)