GROUP VOLUNTEERING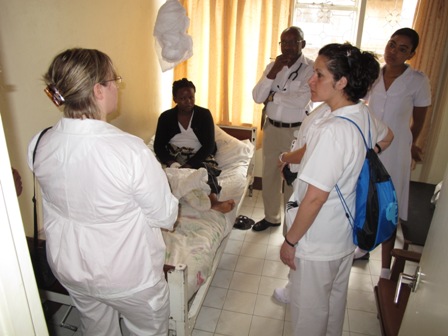 Taking a group volunteer program abroad is easy with the Amani hostel! We're experts in creating customized group volunteer trips for 6 or more individuals with student-led, faculty-led service-learning, high school, corporate or specialist groups (such as medical students), as well as families and friends.
Amani hostel volunteering abroad is a great idea. How so? Because it provides all of the amazing benefits and advantages of individual volunteering plus more! These benefits add value not only to the team members but also for the facilitator of the group, whether that group is from a college/university, a company or simply a group of friends. Among those benefits one will find team building, enhancing skills by stepping out of one's comfort zone while surrounded by supportive partners, strengthening the connection to your organization, the sharing of meaningful moments and many more.
We plan and deliver programs that allow volunteering groups of 8 or more to make positive contributions to community projects, foster cross-cultural learning, develop team-building skills and expand personal perspective. Taking a customized approach to each group enables us to work with you on an itinerary that suits your plans and is backed by over 10 years of expertise in group volunteer travel.
Work with our expert Volunteer Groups Team to find the right program for you.
We can work with you, your employees, or your clients to provide engaging, reputation-building programs that demonstrate your company's commitment to social and environmental responsibility.
This showcases you as a company that not only cares about global issues but invests in sustainable initiatives to create lasting change.
When university students are taken out of their comfort zone and come face to face with new ideas, skills, and cultures, they increase their own understanding of the world and further develop their critical thinking abilities.
This type of volunteer experience requires teamwork, develops the student' leadership skills, and empowers them to become active global citizens. Not to mention the value of international experience that can be added to your resumé.
Our university group volunteer programs are designed to fully immerse and challenge students in contrasting environments. Typically trips are one to two weeks in length and are varied, exciting and tailored to ensure that students have a life-changing, memorable and positive volunteering experience.
Lucky for you, this idea has been vetted and executed by Amani hostel for many years. Amani hostel has placed many volunteers since its creation in 2010. Not only have we sent individuals to our worldwide and highly-accredited programs, but we also have extensive experience helping groups organize and participate in these volunteer trips as well.
Amani hostel has worked with university and company groups from all across the globe. Our placement coordinators and operations team are here and ready to help! We don't shy away from large groups (50 or more people) and we welcome families and other intimate groups. Whether you're searching for private accommodations for you and your partner, or are looking for a program that will welcome your entire staff, Amani hostel has got your back!