STUDY ABROAD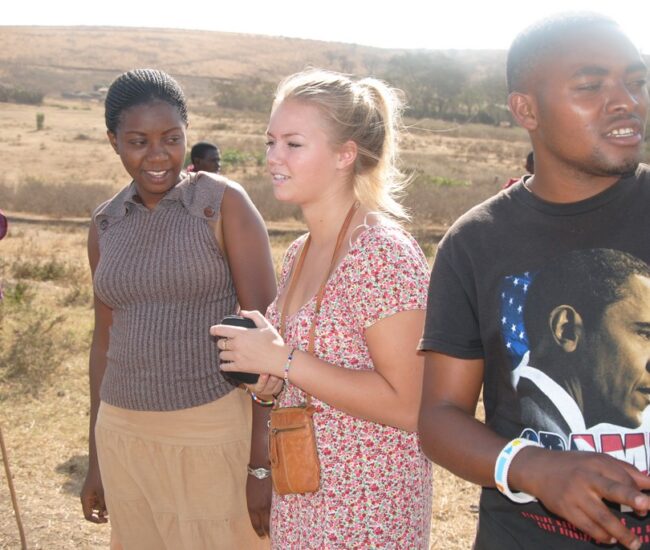 Join us for a unique and affordable semester or academic year abroad. Beyond just looking great on your resume, our study abroad programs provide you the opportunity to:
Earn credit and enhance your education experience

Strengthen your language skills or learn a new language

Experience a new culture first-hand

Meet people from around the world and make new friends

Explore a new place and experience art, history, and events not available to you at home

Gain valuable experience that will help make you competitive in the new global economy
Areas of focus with possible program options include:
Africana Studies in Africa
Tanzania: Wildlife Conservation and Political Ecology
Lecturers are drawn from institutions such as:
Sokoine University of Agriculture

Tanzania Wildlife Research Institute

Dar es Salaam University

St.John's University
Program Information | Requirements | Academics | Support Services | Housing | Program cost Estimates | Resources
Program Information
Africana Studies in Africa
Join Africana Studies for this exciting summer option in Tanzania, Africa! This program will be led by Drs and Prof. from SUA and Dar es Salaam University in Tanzania.
 Possible destinations for summer 2022/2023 include Tanzania, Zanzibar in East Africa. The travel portion of this program is expected to be from June 8th through September 29th, with duration of about 3 -12 weeks. Exact dates and itinerary are still being determined. 
Please contact Sir. Edward directly for more information at info@amanihostel.net   
Requirements
Sophomores, juniors, and seniors with at least a 2.5 GPA are eligible to participate. Students from all school majors/departments are welcome to apply.
Both undergraduate and graduate credit can be arranged.
In order to apply for this program, please complete the basic Amani hostel online study abroad application (click on the 'Book Now' button at the top or bottom of this page) and follow the instructions. 

Support Services
All logistical arrangements and on-site support will be provided by the Team leaders, this is a study tour program, and therefore, the group expects to travel to several different locations within Tanzania, Africa.
Housing
The faculty leaders will arrange housing for participants based on double occupancy, most likely in host family and in a volunteer house.
Program date and costs
Amani hostel provides an Estimate of Costs for each of our study abroad options both on our website and in the acceptance packet sent to each student upon admittance to a particular program option.
Students must contact the Amani hostel Study Abroad for an estimate of costs for any non- Amani hostel study abroad option.
Although all costs are subject to change, the estimate of costs includes tuition and fees, housing expenses, approximate round trip airfare, books, insurance, pocket money – everything we think you will actually spend.
FALL:   September 05, 2022/2023 through December 23, 2022/2023 (Application deadline:  June 01, 2023)
SPRING:  January 18, 2022/2023 through April 20, 2022/2023 (Application deadline:  November 29, 2022/2023) 
ACADEMIC YEAR: June 18, 2022/2023 through April 20, 202023 (Application deadline: June 01, 2022/2023)
To submit an application, download the application found on the sidebar of this page, or go to our 'Book Now' page to apply online.
Cost Includes:
Tuition (4 courses per semester)

Academic transcript from Blue Hill College

Home stay  + volunteer accommodations

3- meal per day

On-campus orientation

Travel medical insurance

Airport pick-up and drop-off

Cell phone rental

Student services and learning support services

English speaking representative in Arusha,Dar Es Salaam and Zanzibar for your assistance

Computer lab on campus with internet connections

Cultural and language exchange: One hour of Swahili for one hour of English with local Tanzanian students

24/7 emergency phone support
Not Included:
Round-trip flight  transportation to Tanzania

Additional meals

Visa expenses

Optional trips and excursions

Textbooks

Personal expenses

Daily transportation
Program date and costs
| | | | |
| --- | --- | --- | --- |
| Duration | Semester | Academic Year | Summer Program |
| Costs | $4,985usd | $7,970.00usd | $3,500usd |
Culture Shock: Going Away
NOTE: Amani hostel recommends that students and their families read this section carefully.
Although much of the information provided here is directed toward planning for your overseas experience and issues that may arise while you are away, Amani hostel would like you to be aware that coming home again is often more stressful than going away. As you read this and plan for your study abroad, you are unlikely to think that this is the case, but experience has shown that "reverse culture shock" exists.
Because you expect to find differences while you are away, you are generally receptive to them, although it is normal to feel "down" a few weeks into your program, after an initial euphoria.
Try to be gentle with your parents during this time: they are worried about you anyway, and by the time they receive your letter describing your unhappy state, you will probably already have found your equilibrium. After you reconcile yourself to the way things are and even begin to enjoy them, you have adjusted and will make the best of the situation.
Student Conduct and International Laws
When you study abroad, you are a guest in a foreign country. When you enter a country, you become subject to all its laws, even if you don't know what they are. For your own safety, it is extremely important that your dress and behavior be appropriate to the norms of the country, the policies and regulations of the institution where you are studying, and the laws of the country.
If you are involved in illegal activity in a foreign country, the United States government cannot offer you any protection. In particular, penalties for conviction on drug charges can be very severe.
(See Drug Use Information Sheet in your acceptance packet.) Additionally, you should not become involved in political activities or demonstrations. Should you encounter legal difficulties, however, you should contact the nearest consulate for assistance.
The U.S. consular officer can provide you with a list of local attorneys and contact your family or friends. Consular officials cannot intercede with local authorities on your behalf.
You are also subject to the regulations of the university where you are taking classes. Attendance requirements, course requirements, and grading criteria are determined entirely by the host university.
Regular class attendance is mandatory, and travel should be restricted to authorized vacations and periods before and after the academic sessions. The host university takes responsibility for any disciplinary action in connection with violations of its rules and regulations.
Why Parents Should Encourage Study Abroad?
There are lots of good reasons to encourage your son or daughter to study abroad. Here are five:
1. Studying abroad is a life-altering experience
Studying and living in a different culture helps students to see the world from a completely different perspective. It's an amazing experience that changes lives. Not only do students learn about other cultures; they learn how to view their own culture from a different perspective. They also learn so much about themselves.
2. Make connections that can last a lifetime
While studying abroad, students have new opportunities to form bonds with people around the world. The friendships formed with others while studying abroad can last forever.
3. Resume building material
Students have the opportunity to not only learn while studying abroad but to apply what they've learned in the workforce. In today's competitive job markets, studying abroad helps students stand out from other applicants.
4. Studying Abroad is a chance to gain the true language fluency
The only way to truly become fluent in a language is to be immersed in it. If your son or daughter studied a language for several years and hopes to gain fluency in that language, we can offer you the opportunity. Please note that you are not required to know another language to study abroad.
5. Why be just another tourist
Studying abroad gives students the opportunity to really learn and understand their host country. Being immersed in a host country's culture will allow students to experience all aspects of their host country.
Why Study Abroad?
Congratulations!  You are thinking about studying abroad, which is an exciting but potentially confusing decision to explore. As you consider all your options, here are some basic steps to take to help you choose the right program.

Most students begin the process by considering the location to which they would like to travel. That's a great place to start, but don't forget to keep some other aspects in mind. 

Determine whether you want to study, work, or volunteer.

  There are many options for going abroad – you can work, do community service, study, or travel just for fun.  Before you apply to a study abroad program, make sure that your goals are aligned with your program choice, and that you carefully consider the other options available to you.

Consider the program structure.

  There are three basic types of study abroad programs – direct enrollment, island, and field-based programs.  When students enroll directly into a university, they are considered a student at that university like any other, and they take integrated classes and live in dormitories like any other student.  An island program provides separate classes and spaces for foreign students, and they are often highly structured and sponsored by a university in the United States.  

A field-based program allows students to experience what they are learning both in the classroom and through hands-on learning outside of class.

Amani hostel

programs are field-based programs.  Of course, there are many variations on these basic models – review program materials and ask questions about program structure before making your decision.

Think about your living arrangements.

  Do you want to live with a homestay family or in a dorm?  Would you like to try both?  Are you interested in living in urban and rural settings?  Consider the type of living arrangements and the length of time you would be living in that setting.  Almost all 

. 

Amani hostel

Study Abroad programs have homestays, but they vary widely in type and duration.  You can read more about home stays on the individual program pages.

Establish your academic goals.

  Different programs will allow you to achieve different academic ends—you may be able to study something to which you do not have access at your home institution, or strike out on a new subject for a semester, or test a subject to see if that is a career or graduate school option for you.   Once you have established what you hope to accomplish academically during your semester, then you can choose the appropriate program model and academic focus.  You should also discuss your options for credit transfer with your home college's study abroad office and/or your advisor before making your decision.

Decide how long you want to be abroad.

   Based on your academic and personal goals, both internationally and long-term, think about whether you would like to study abroad for a few weeks, a summer, a semester, a year, or even longer.   Would you like to stay in one place?  Would you like to compare places?  

Please read more about spending multiple terms abroad with Amani hostel Study Abroad

.

Determine how you would like to spend your time.  

Think carefully about how you would like to spend your days and who you would most like to meet.   In some programs, you may get to know a number of community members, while others may offer more opportunities to meet college students.  Consider how you would like to spend your free time, and if the location, program policies, and structure will allow you to do that.  

Make sure that your academic goals fit with the practical parts of the program – for example, if you are most interested in learning the language, then you may want to participate in a program with language partners, intensive language courses, or an extended home stay.  If you are interested in doing a practicum with an overseas organization, choose a program that incorporates that type of opportunity into the term abroad.

Learn more about programs out there, and talk to your study abroad office.

  Students learn the most, succeed, and enjoy the program best when the program fits their needs and objectives. Your study abroad office at your home college or university can provide valuable guidance and assistance, so be sure to consult that office and others before you make a final choice. 

Read more about

Amani hostel

Study A broad's unique model to determine if it is a good fit for you – and if you have questions about one of our programs, please do not hesitate to contact us.