MOUNT HANANG HIKE DETAILS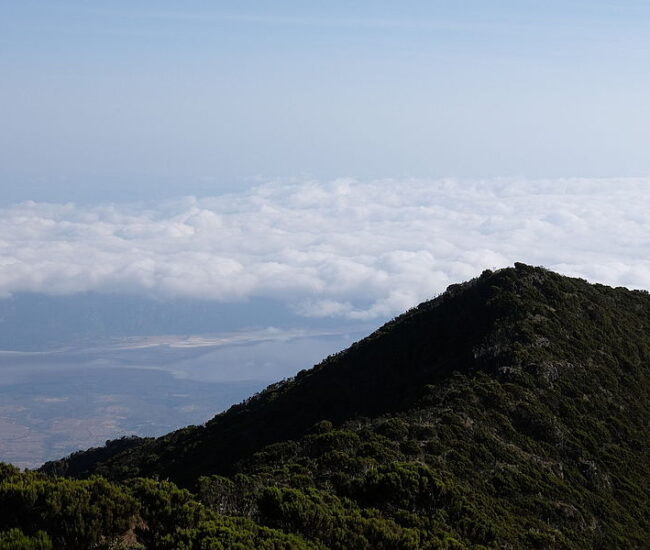 Hike Distance: The total distance of the hike is 17.5km out and back (return trip)
Hike Duration: This depends a lot on your speed and how much gear you are carrying. The ascent can be completed in about 5-6 hours and the descent can be completed in about 3 hours. This obviously depends on your ability to hike uphill with gear. Our total moving time was just six hours and twenty minutes (for the return trip/up and down) according to the Garmin, which doesn't count any rest breaks or stops and sleeping at the summit. We left at 11 am and made it to the summit at 3:40 pm in time for a chill and sunset and then the next morning took about 2-3 hours to slowly hike down with a nice big break for breakfast at the regular campsite (3,100m)
Hike Difficulty: This trail is quite difficult due to the extreme incline. In 8.5 kilometers you will ascend more than 1600 meters and this is done at a high elevation. The hike will reach 3,423m by the time you are at the summit so expect to be short on breath. The terrain is rocky and involves a lot of concentration as you step on boulders and rocks making sure not to slip on the ascent and also the descent. There are many sections where you will need to be sure-footed but not any big drop-offs or moments of exposure. Basically, if you can handle the incline, weather, and cold camping conditions you are all set for this one.
Hike Incline: 1,791 meters (return trip)
WHERE IS THE MOUNT HANANG HIKE
Mount Hanang is situated above the town of Katesh, in the central-north region of Tanzania. From Arusha, the drive will take you about four hours via car or half a day via public bus.
Once in the town head to the Summit Hotel, which is the unofficial meeting point for guides and hikers. This is also where you will spend the night before and/or after your trek if you are spending the night. Unfortunately, they haven't got their pin on Google Maps for some reason but everyone in Katesh knows the hotel. The closest pin on Google Maps to the Summit Hotel is the Star Lights Bar. This bar is basically a pin next door so will get you to the Summit Hotel. I've added that pin location on the map below for you.
HOW TO GET TO MOUNT HANANG
Tanzania is a little bit interesting to get around but there are several options to reach Mount Hanang from Arusha. Firstly, there is a public transport van or bus that drives from Arusha to Katesh and you can get out at Katesh and simply walk to the tourism office, which isn't too far. Depending on your bus you may need to switch vehicles in Babati but your driver can confirm that for you.
The second option is to book a private transfer and it makes the trip very comfortable in a van with A/C, wifi, and it's obviously more expensive than public transit but can be worth it when you are a group of several people and makes the trip much more comfortable. 
GUIDES AND PERMIT FEES FOR THE MOUNT HANANG HIKE
To organize a trek up Mount Hanang, you need to contact us. 
There are a few options when planning the trip in terms of pricing.
Firstly, you need to choose if you want to camp overnight or do a day trip. I highly advise camping overnight as you enjoy sunrise and sunset at the summit. Going up and down in one day is brutal and you will be at the summit in the middle of the day. So you work harder, for less beautiful views.

Secondly, either you bring your own camping gear as I did or you can rent a sleeping bag, tents, etc. from AMANI HOSTEL. He has all that gear and charges a small fee per piece that you need to rent.

Thirdly, you need to decide if you will carry all of your camping gear, tent, clothes, and food, or do you want a porter to assist you with that. If you've never carried a heavy pack up a hill, this 1600m ascent may not be the best time to try but go for it if you are up for a challenge.

Finally, are you happy to carry your own food and cook your own meals? I simply carried nuts, sandwiches, and some granola bars. It's just 24-hrs so there's no real need for cooked food and bringing a camping stove etc. unless you want to carry more on your back.
All of those decisions will impact the cost as they involve extra gear, porters, and extra time on the hiking tour Remember it is customary to give your guide/porter a tip.
Important: You cannot do this hike without a guide and there are big fines for doing so. There are so many locals at the lower stages that will see you so it's not even worth the risk. I love solo adventures so I asked about going by myself but it's not even an option.
OUR EXPERIENCE ON THE MOUNT HANANG HIKE
Mount Hanang isn't a mountain you hear much about in Tanzania but after experiencing this incredible peak overnight at the summit, I'm sure as people hear about this hike it will grow in popularity. The hike follows a wide, relatively safe ridge up to the summit, ascending more than 1600 meters in a matter of about five hours. A rocky patch at the summit provided just enough room for a couple of tents. We took shelter from the cold temperatures at 3,426m while enjoying an incredible sunset and sunrise with expansive, panoramic views.
The journey began in Arusha with a four-hour drive in the morning to Katesh. I decided to complete the entire experience without staying overnight in Katesh town. This meant I left Arusha at 6 am and began the hike at 11 am. If you are catching the bus from Arusha this option probably won't be possible as the bus takes much longer and you will need to overnight in Katesh before hiking the next day.
Katesh is an interesting town at the base of the mountain with red-dirt roads and a cold chill in the air. The hike began at a signed gate without much fanfare, permit checking, or anything other than stepping over the fence. My guide had taken care of the permits and fees before I arrived.
The climb up is pretty brutal if you aren't conditioned to hills. The trail is a nonstop incline for 1600m until you reach the summit. The first part of the track is under the cover of the forest where branches intertwine and the canopy provides some shade. However, after one kilometer, the canopy disappears and you are at the mercy of the sun, which heats up as does the incline. A slow and steady approach is the smart one for this trail so take lots of breaks to turn back and see the town of Katesh as it shrinks in the background.
Most hikers camp a small plateau found at 3100m but I preferred to reach all the way to the summit for sunset and sunrise opportunities. It means you need to carry all your gear an extra few kilometers and be a bit more exposed at night but it's worth it. The guides were happy to do it when I requested, but it is unusual and most camping happens on the grass at 3100m rather than the rocks at 3,426m.
It took us four hours and forty minutes to reach the summit, which is a pretty good pace given we were carrying all of our food, camping gear, and equipment. I enjoy reaching a summit well before sunset. It gives you time to set up, have some food and enjoy the view before the golden hour arrives. It was a quiet couple of hours sitting atop the summit watching the ravens circle and the clouds forming in the distance over the lake.
Sunset was spectacular with the sun creeping through a small break in the clouds to light up the mountain. Once the sun disappeared, there was a pastel pink glow that filled the sky. It wasn't long before the show was over and the air quickly had a chill that would get colder and colder throughout the night. Clouds engulfed the camp moments after sunset and soon our entire camp was wet. There was nowhere to be other than huddled inside my sleeping bag, settled in for a wet, wild and windy night atop Mount Hanang.