COMMUNITY SERVICES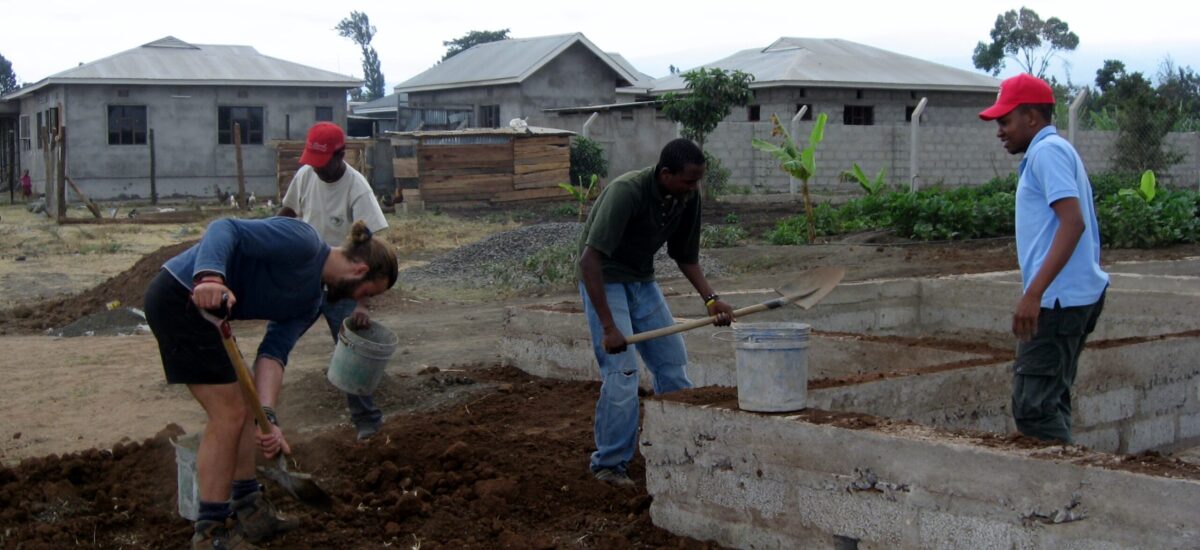 Every community challenge is different sometimes your team will arrive at the start of a project and will build from the group up. In this case, you may be clearing rubble digging foundations chipping rocks lifting and laying blocks or mixing cement.
On other challenges, you may arrive to find the building partially complete. In that case your team might concentrate on finishing work, roofing installing windows, doors or roofing. Once the exterior of the classroom nears completion efforts focus on finishing the interior. Every building project is different.
Everything you do on a construction site, whether it is hauling sifting sand removing or placing dirt mixing cement by hand or passing buckets of mortar to another team member is helping a remote community improve its educational or health services. It is an inspiring process to be involved in.
Accept that you don't always have to be productive to have a good experience. Regardless of the work you perform community challenge teams inject enthusiasm and encourage the families and community by sharing the burden of the contractions process.
You do make a difference and are greatly appreciated. You will need to be patient and flexible. There will be times of waiting for someone to show up, to make a decision, or just to get started.
You can always work extra hard when the time comes. Make the most of the waiting around time to share with the community. You may never have the opportunity again.
Often the work to be done is very labor-intensive.
Clearing and leveling a site, hauling dirt, digging foundations, Transfer or delivery of materials such as Sand, gravel, cement blocks and bags of cement. Manual pressing cement blocks, Manual mixing cement, fishing floors, forming latrines, filling masonry joints with cement, assisting with a physical inventory of Construction materials
You will never be asked to do anything outside of your physical capability and team work will be encouraged at all times. No volunteer should be made to feel they have to do something they not happy or comfortable doing.
There are many tasks on a building site so ask the supervisor for jobs you feel comfortable with. Be open and host if you are not feeling useful enough or you feel you cannot do what you have been asked to. If you do have any reservations about any job you are assigned, please do not hesitate to raise these with the construction supervisor.
The days will be scheduled around the local working hours and appropriate temperatures throughout the day. Lunch, water, and snacks will be provided on-site and shared with all members of the building team.
What Should I Expect?
Volunteering abroad can be the most rewarding experience of your life and the most challenging at the same time. You will be immersed in a new culture, you will meet incredible people, and you will learn a lot about yourself.
Humility and patience are essential.
One of the first things you will learn, whether it's standing in a queue at the post office, or waiting for the dial-up connection at the local Internet café is African Time. The locals will joke about it and really, their approach is the wise one. Everything takes a long time and the outcome is often not what you might expect to have or to get.
You will make cultural blunders.
It's embarrassing but inevitable. A healthy sense of humor will go a long way. My face still turns red when I remember the lovely little "purse" I bought I a San (Bushman) village. I took it to church services in Malawi for three years before one of my African colleagues pointed out to me that it was a witch doctor's bag and "no respectable Namibian or Malawian woman would ever take such a thing to church."
You will become the Educational source.
Your Abroad students, whether children or adults, will be eager to learn about your home country (bring postcards to show them), and will be just as eager to tell you about their. One of the most successful English lessons was having students write the oral proverbs and stories told in their villages, and then asking them to create their own original stories. If you would like to know more about the culture or traditions of your host country, there's no easier way than to assign it as an essay topic in which different students will write more to you about their homes and cultural aspects.
These are some advantages on volunteering with us in Tanzania.
Skill acquisition – job skills, communication skills etc
Personal and professional development and Training Confidence
Experience – especially to be able to add to your CV
A written/verbal reference
Having fun
Meeting new people
Experiencing new challenges
Satisfaction from doing something to make a difference
The ability to explore different sorts of career or job opportunities in a voluntary capacity
Abroad Family Volunteering with us
Family volunteering allows parents, children, and other family members to spend time together while contributing to the community and causes they care about. It can be a fun activity that can improve communication within the family resulting in stronger family relationships.
A growing trend overseas is for families to volunteer together. Family volunteering can involve siblings, parents, spouses, and children. Families can volunteer to help a cause close to their hearts.
What Families Can Gain from Volunteering with us?
Parents act as role models and can demonstrate helping others in need
An increased sense of worth and accomplishment from making a difference
A stronger sense of community and decrease in social isolated
Respect for different people and conditions
Relative or family members could benefit from the activity
Learn new skills or use existing skills
I am interested in a  Safari, What is my next step?
You can book a suggested itinerary from our website. These trips offer the convenience of a pre-set itinerary and a fixed price, with flexible scheduling. Travel dates are up to you.
We only organize private Safaris. That means only you and your travel partner(s) will be on the tour. There will be only you on the transfer, the Safari vehicle and the tours. This gives you much flexibility on where to stop and tracing your favorite animals.
Or you can start from scratch and work with us to develop a totally customized itinerary and schedule. We are enthusiastically open to side trips, detours, special needs and special plans.
For a booking we need an advance payment of 50% of the tour price, the remaining balance you can pay after your arrivals to Tanzania
How does our pricing work?
Our trips use tiered pricing based on logistics. Getting people into remote areas where the best game viewing exists is more costly when there are only two people in the Land Rover, rather than four or five. Economies of scale result in lower pricing for four or five people traveling together as opposed to pricing for a couple traveling alone. As well, the logistics of moving gear around for a walking safari with numerous bush camps is more complicated and costly than a trip that involves simply staying at a lodge. Our pricing structure is tiered so you pay for the costs of your safari and don't subsidize other groups.
Our trip prices range and depend over a wide scale. The price depends of:
The number of people traveling in the group
Whether you're in-country transportation is by bush plane or Land Rover
Whether you choose to stay in lodges or smaller tented camps
How remote do you want to go
Whether you want to view the game from a mobile tented camp
Whether you want to participate in walking safaris that involve remote bush camps
We can work with you to bring your safari within your budget range. Most of our trips are Suggested Itineraries, but you can vary them as you want. Let us know what your budget is and we will do our best to design a trip that gives you the experiences you want within the budget you set.
How far in advance to I need to book?
There is no cutoff. However, flights into Kenya and Tanzania are limited and we find that there can be problems getting seats on British Airways or KLM if you try to schedule less than two months ahead of time. Peak seasons also book up as far as nine months ahead of time. Mind to late December is a busy time for both Kenya and Tanzania. Outside of peak seasons, you should have no trouble booking if you schedule your safari for at least six to eight months in advice.