SCHOOL TRIP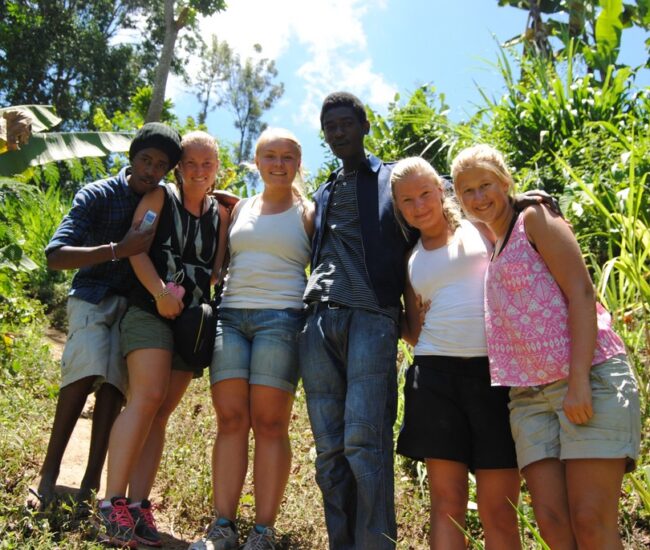 HIGH SCHOOL VOLUNTEER GROUPS ABROAD PROGRAMS
Volunteering abroad during high school lets students gain a better understanding of the world, its challenges, and how they can help contribute to making sustainable changes. Our educational school trips abroad are typically 2–3 weeks in length and include opportunities for extensive development, both personally and in skills such as leadership.
All Amani hostel  high school volunteer programs include:
volunteer work abroad
a customized itinerary
360-degree support, before and after the trip travel with a trusted teacher and a highly qualified expedition leader who will accompany each group
a teacher and expedition leader ratio of 1:10
adventure and exploration activities such as Kilimanjaro trekking, safaris Tanzania and Zanzibar holidays
cultural activities such as cooking classes, learning phrases in the local language or watching traditional dance demonstrations
an introduction to the concept of international sustainable development and talks by local subject area experts in areas such as wildlife conservation and community development
accommodation and three meals a day
Transport to and from the airport, and during the rest of the trip.
And there are so many other benefits to educational school trips abroad. It allows high school students who are volunteering the opportunity to work collaboratively as part of a team, to better understand the challenges faced by the local community they're working alongside, and to gain practical experience. Students will also develop soft skills such as leadership, planning, organization, and public speaking. This will enhance their opportunities for education and help them to broaden their career prospects.
Seize the opportunity to travel, make a difference, and meet new people as a teen volunteer abroad! If you're 15-18 years old, we have programs designed especially for you.
Our volunteer opportunities abroad for high school students offer:
Itinerary-driven experiences
A safe and supportive environment, with in-country staff available to you 24/7
Opportunities to gain college and career readiness skills
Organized social and cultural activities where you can build friendships with people your age from around the world
In addition, all of our service trips for high school students have fixed dates. You choose the dates that fit perfectly into your summer break plans!
Our High School Specials focus on experiential education – education through experience. So whichever summer volunteer abroad program for high school students you join, you'll learn by doing. This could be helping kids learn through play, or observing doctors in busy hospitals to prepare you for a pre-med track in college.
Tell us your interests, and we'll help you find a volunteer opportunity for teens that best suits you.
Group high school volunteer programs provide students with a once-in-a-lifetime opportunity – through immersion in another culture and giving back to community projects that match students' skills or areas of study.
Our high school programs require a ratio of one guardian to every 8 students. Guardians can be teachers/staff or parents that wish to take part in the program. Our team of volunteer travel experts has created customized group options for high schools from across the United States, United Kingdom, Canada, Australia, New Zealand, and the United Arab Emirates.
Volunteers under the age of 18 are required to provide Amani hostel with parental/guardian consent and two satisfactory character references in order to participate.
Send us an inquiry to discover what we can offer your high school group.
Want to do your part to improve humanity? Do you want to take part in a great high school volunteer and travel opportunity? Are you a high school teacher or a team leader? Are you looking for a safe, highly rated, and affordable volunteer abroad program? Do you want to help your students embark on a journey that will change them and impact the world? If you answered yes, the Global Crossroad high school volunteer abroad project is a perfect choice.
High School Volunteer Abroad Programs
Join a reputable and safe program that is still very affordable
You can choose from a wide variety of high school volunteering opportunities
Soak up a new culture and way of life in your country of choice
Travel the world on an adventure of a lifetime
Offer your time, energy, and love to people in need
Are you a high school teacher or group leader? Are you looking for a safe, affordable, and life-changing high school volunteer program for your students? Then look no further! If your students would love to embark on an exciting journey to a new country, an  Amani hostel high school volunteer abroad adventure is just what you're looking for.
At Amani hostel, we have been offering incredible and highly affordable high school abroad programs for high school students in Tanzania, Africa since 2010.  Our high school program focuses on a service project, learning, and helping the local communities. As volunteers, students will have the ability to choose the project they're most passionate about and immerse themselves in a country they've always wanted to visit.
They'll live with an experienced and trusted host family and have plenty of free time to travel and explore in their chosen country. If your students are ready to make a difference in the lives of others less fortunate, they will absolutely love this experience!
Before, during, and after your trip of a lifetime, your students will have the continued support of the  Amani hostel and local teams. Help will always be available if and when they need it – we're here to make sure your students have an amazing and safe high school volunteer trip abroad.
As with the hundreds of students who have taken part in our volunteer programs, they'll return home with memories they can keep forever. If your students are ready to experience the world and a new culture, join one of our high school volunteer vacations abroad.
What are High School Specials?
High School Specials are working abroad programs designed specifically for young adults.
With that in mind, you can expect to:
Participate in a well-organized high school international summer program that makes a real impact on communities
Take part in socials that spark new friendships and ensure you have fun
Receive 24/7 support from our trained supervisors
Live with a friendly host family or at local accommodation with a supervisor
Explore a new country and culture through organized activities and a weekend trip
On a personal level, you will:
Step out of your comfort zone and engage with a group of diverse people from around the world
Develop global competencies like communication, teamwork, and time management
Improve your problem-solving skills through different situations
Get a better understanding of global issues
The Duke of Edinburgh Award is available for application by teens looking to earn their Gold Duke of Edinburgh Award and boost their career prospects. Teens can use their participation in an Amani hostel program to demonstrate competencies in several of the required focus areas, such as volunteering, skills development, physical fitness, completing a program, and having gone on a residential school trip abroad. You can also enhance your personal statement on your UCAS application with the Duke of Edinburgh Award.
For groups looking for more than a high school volunteer program, we have also developed a separate range of service-learning group programs. Service-learning is the combination of classroom learning and theory, with hands-on, in-field experiences.
This allows students to engage with their academic material while performing activities that help address challenges faced by the local community. It is rounded off with periods of reflective learning, which are shown to increase self-awareness and lead to a better understanding of others.
We offer 24-hour support in-country, as well as a 24-hour emergency desk, which is also available to parents. In fact, our expertise in managing young volunteers in international destinations has also secured us British Standards 8848 compliance.
Also, as teachers play such an important role in the success of our school trips abroad, we agree in advance to an expedition leader, teacher and student ratio to give additional peace of mind. This is usually a minimum of one expedition leader assigned to a group of six participants.
We also usually offer one free teacher place per each ten high school students attending the program, and offer pre-departure support with travel logistics and to make sure school groups know what to expect upon arrival and during the program.
We also conduct a teacher webinar where teachers, parents, guardians and chaperones can ask questions and receive feedback from our support coordinators.
All transport during the project, as well as the final airport drop-off, is provided by Amani hostel expedition leaders. In order to seamlessly manage airport arrivals for our groups, we set up instant messaging groups that allow communication between students, teachers, parents, and expedition leaders.
Uniformed Amani hostel expedition leaders meet the group at the airport upon arrival and they are then transported to their accommodation. After this point, all parents receive an email letting them know that their child has arrived safely.