VOLUNTEER HOUSE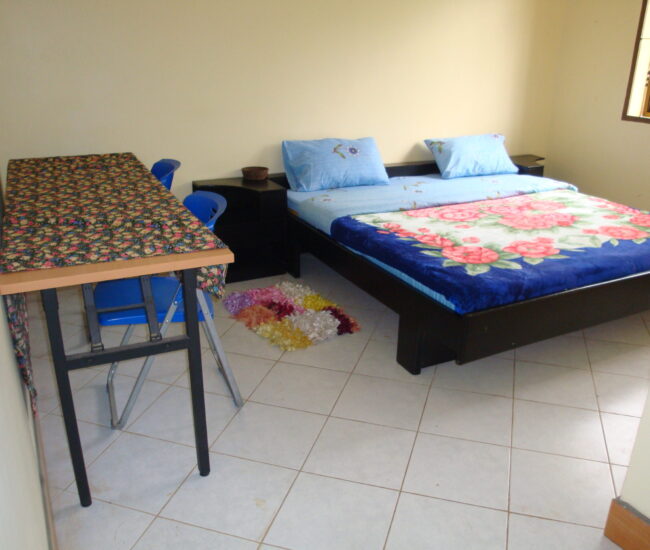 Considering the fact that hotels and guesthouses can be expensive for volunteers especially those wanting to stay for longer periods, we work on a program where we place our volunteers in a homestay where they live with a local family or a volunteer house with other International volunteers (please note that spaces in the volunteer house can only accommodate up to 20 people at once).
The volunteer house is a large, Western-style house with 10- bedrooms (all shared accommodations with bunk beds). Bathrooms in each apartment with Western-style toilets and hot water for showers. The house is safe and secure, with a security guard and a large gate. In the volunteer house, there is a cook who cooks the meals for the volunteers.
The accommodation is basic but comfortable with free Wi-Fi. Each room has bunk beds with up to 4 people per room in same-sex rooms. Volunteers are provided with fans in the room and their own mosquito net and bed linen. Bathrooms are shared, have a shower and western style toilet. The water is cold but this shouldn't be a problem as Ghana is hot all year round! 
The house has free Wi-Fi (although intermittent) and a communal area for volunteers to hang out. There is a lounge, TV and DVD player and an outside seating area. Volunteers are welcome to use the kitchen to prepare meals or even help out when meals are being prepared. We also have a refrigerator where you can store your personal food items but please remember this is dependent on electricity and power cuts can be a frequent occurrence in Ghana!
Clothes can be hand-washed or you request a local maid to wash them for you. Living in the Amani hostel's Volunteer House offers a great social experience. Volunteers are given their own privacy and locks to their rooms, so it is a very laid-back atmosphere.
A member of our local team will also live at the house. The house is gated and secure and our local coordinator lives on-site ensuring you have around-the-clock support and security.  
HOMESTAYS
For the homestays, we give the volunteer option to experience Tanzania Culture by allocating him/her to one of the family. The family will give money from your fee for support, food, and board. It is exciting to stay with a family; that way you will learn the Tanzanian way of life, meet local people, eat local food, and engage in local customs and traditions. 
Living is basic but all the homestays have electricity and running water and accommodate volunteers in SAFE and SECURE homes (some rural homestays may not have electricity or running water during times of drought). All homestays have been inspected thoroughly by our own local Tanzania staff and chosen because of their safety and security. Do not worry about staying in a homestay—we would not place you somewhere that is unsafe because it will give us a bad reputation.
Most volunteers here love their homestays and feel that they get a more authentic Tanzanian experience by staying there. Sometimes the power and water go out due to some technical problems, but this is for both the volunteer house and the homestays. In this event, we always make sure that we provide a bucket of water for the bath and toiletries.
Volunteers can expect to share a room with one or two other volunteers. 
While bedding is provided it is recommended that volunteers bring their own sleeping bag and mosquito nets for any trips away. Homestays are located in the town of Arusha and in the villages surrounding the countryside of Arusha. Some homestays may be a 20-30 minute drive by public transport from the city center.
Regardless of the tribe or culture, your host family is from, they will be sure to give you a good Tanzanian treat and meals will be relatively varied. Bottled water is readily available in Tanzania and volunteers should budget approximately US$5-10 per week for this (3- liters per day). Breakfasts generally consist of Chai (tea), toast, cereal, fruit, and mandazi (deep-fried dough). 
A typical lunch can include meat and vegetables with rice, sandwiches, and fruit while dinner usually sees traditional food such as ugali, chapatti, and Boga accompany the meat and vegetables. Breakfast is taken in the morning, then, lunch, which is served at about 1 pm (or you can take a packed lunch if you wish to eat at your project), and then dinner/supper served at 6 or 7 pm.
If you have special eating needs, please let us know ahead of time so that we can make arrangements for you. However, we need to stress the point that you should not expect to eat as you normally do at home. We will do our best to see that you are well taken care of, but also as a volunteer, there is a need to be flexible.