VOLUNTEER MEALS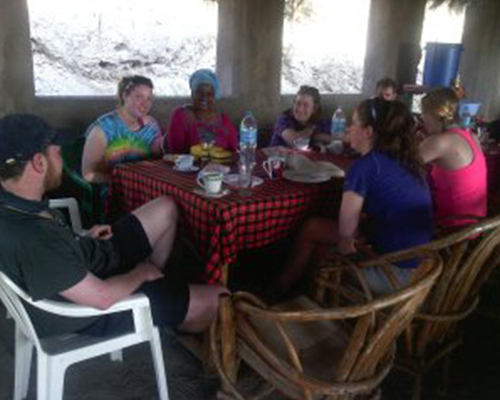 AMANI HOSTEL  arranges volunteer meals, accommodations and strong field supervision for the duration of projects and optional travel packages. In Tanzania, most volunteers stay in our home base, a permanent home established for our volunteers in Moshi/Arusha located about 30km from Kilimanjaro International Airport.
Our home base in Tanzania is located in a very safe and clean neighborhood. There are internet cafés, restaurants, local bus stations, a police station and supermarkets near our home base.
The home base provides a comfortable place to relax after a long day. There are several bedrooms (which may be shared with a same-gender volunteer) and community areas. There is a shared kitchen, television, and shared bathrooms, which have running water and "western-style" toilets.
Depending on the influx of volunteers, accommodations could be with a host family or a hostel. Host family accommodations are simple and clean homes in safe neighborhoods. Volunteers usually have a private bedroom, but occasionally rooms will be shared with a same-gender volunteer.
Our host families are well screened and are respected members of their communities who live in affluent neighborhoods. Most of our host families have experience with hosting international volunteers.
Host family stays are a great chance for cultural immersion and exchange. Hostels are located in safe and secure neighborhoods and are chosen for their proximity to projects.
Volunteers receive three local meals per day (breakfast, lunch and dinner). We can provide vegetarian meal options, but needs must be detailed in a volunteer's application. Snacks and beverages outside of mealtimes are not provided; however, there are local restaurants and grocery stores near the residences in which we place volunteers.
AMANI HOSTEL offers unparalleled field support to volunteers to ensure a safe and rewarding experience. There are many layers of support for you. The most important support comes from our country coordinator/field staff. The secondary support comes from the host project staff and members of host families and/or a home base staff. Volunteers will have access to our country coordinator's mobile number and they are available 24/7.
Throughout the volunteer project, our local staff stays in contact with volunteers either with face-to-face visits or via email/telephone. Our field staff will visit regularly (every 2-4 weeks) to make sure things are going well and as planned. However, if the placement is far from our local offices, staff members will stay in touch via email/ phone. Volunteers are also welcome to stop in the offices at any time.
Specific details regarding accommodations, food, and contact details for our local coordinator will be provided in personalized volunteer placement documentation prior to arrival.
Living with a host family
One of the things that make volunteering and interning abroad so worthwhile is the chance to discover a different way of life. By living with a host family, you get to experience something far beyond what you would as a tourist.
Our projects empower you to explore the world, experience different cultures, and truly understand the specific issues in the places you visit.
Through our host family accommodation, we offer the chance to live like a local and truly immerse yourself in local culture. In the process, you'll grow as an individual and broaden your understanding of people.
Your host family will be like a home away from home. Having a warm, caring family to come home to each day is an ideal way to adjust to living in a different country. A supportive home environment gives you the confidence to focus on contributing to your placement and exploring the country.
You also won't be on your own. We have a thriving volunteer community in all of our destinations. You will live with a host family alongside at least one other
AMANI  ABROAD  volunteer.
Our host families are carefully chosen for security, comfort, and friendliness. Many of our hosts are associated with our programs. For example, you might live with a teacher or principal at one of our partner schools, or a doctor at one of our medical placements.
Your room will be modest but comfortable. Host families live in secure houses and neighborhoods and are closely screened and monitored. Our full-time local staff holds regular check-ups, including one right before you move in.
We also ensure they can provide you with quality home-cooked meals. Food is at the heart of society, so be prepared to eat your fill of local cuisine!
In line with our commitment to being a positive influence in the communities where we work, host families are decently compensated. They are also interviewed for friendliness and to make sure they're motivated by the right reasons. They will welcome you into their family and home, eager to share their customs and have you teach them about your own culture.
We believe that living with a host family offers an incredible experience that really makes a program with us unique.