BUILDING VOLUNTEER PROJECTS IN TANZANIA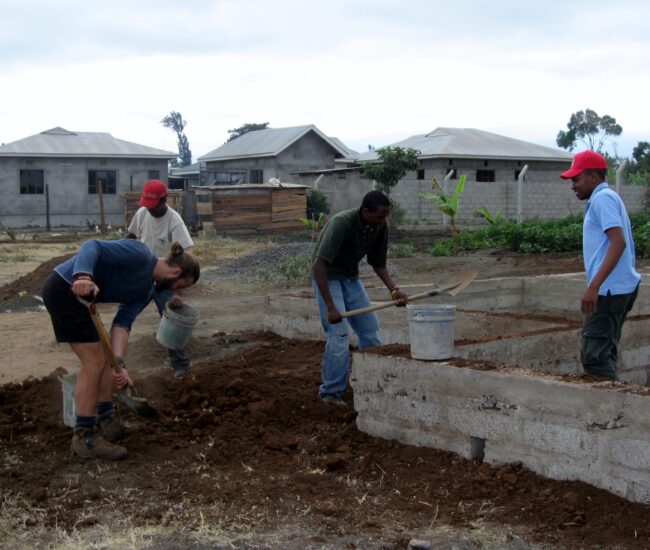 Some of the most important work that needs to be done in developing communities is setting up basic infrastructure. Helping communities through building lays a foundation that will allow locals to continue with their efforts even after their volunteer work abroad has ended.
Building volunteers can work in a variety of destinations contributing to all types of sustainable projects. Whether you want to experience rural life in Arusha, Tanzania or in Ghana, or a big city in South Africa, there are different options for you to get the most out of your building work.
Volunteering on a Building Project Overseas
You can do volunteer building whether you're 16 or 60! These projects are for volunteers who are on summer holidays, a gap year from their education or taking a career break and they run all year round. You don't need any previous building experience, though you should be physically fit and willing to work hard in order to partake on these projects.
Our building projects really allow volunteers to be immersed in the host community. Volunteers work with locals to make sure these projects get completed and match the needs of the people they're benefitting.
You may find that the way you're used to working on building projects back home can be very different from this experience; the materials used are often more simple and there can be limited tools for construction. Additionally, work schedules may vary due to a hot or rainy climate, so a flexible attitude and a willingness to get involved when needed is essential.
Voluntary Building Project in Tanzania with us
Volunteers work alongside a local builder, who will teach you all the necessary building and construction skills to enable you to take part fully in the construction process, assisting with all levels of the building. The buildings are made using traditional methods and locally sourced materials. The construction techniques are also simple to master and are ideal for sites with limited facilities. No electricity is required at the site – everything is done by hand!
We are currently working with local Maasai communities outside the town of Arusha. The primary focus is the Maasai village of Nduruma, where AMANI HOSTEL runs a primary school in partnership with the government. The nursery school is currently run in an old church building, there are no windows and four classes are all taught in one room. Therefore, our next project is to build a proper building for the nursery school close to this site that will enable children from Meserani and the surrounding communities to get nursery education otherwise unavailable to them.
The new building will provide volunteers with a space where they can work in a professional and well-structured environment.
This is a long-term project (6 months to 1 year) that will be built, and then staffed and run, solely by Projects Abroad volunteers. We have already received a wonderful welcome from this community, who really see the value of having the volunteers here. This is undoubtedly our most exciting building project yet!
Volunteering on the Community Building Project in Tanzania
The work of the volunteers is varied but may include digging foundations, mixing cement, building walls, constructing a roof, plastering, or putting the finishing coat of paint on the completed house.
The building work takes place early in the morning and late in the afternoon so you'll have plenty of time to get involved in township life. Each site is overseen by a qualified builder from the community who will help volunteers with the construction process.
You do not need previous building experience to take part in this project; although anyone who does have any relevant skills will be very welcome and will be able to take on a more specialized role. All volunteers should, however, be reasonably fit and physically active, and be prepared for working outdoors in a variety of weather conditions. Volunteers live with local families in the area.
You can join the Building project in Tanzania for two or three weeks if you don't have time to join us for four weeks or more. This project has been selected by our local colleagues as being suitable for short-term volunteering for both the host community and the volunteer. Although you will gain valuable cultural insight and work intensely within the local community please be aware that you may not be able to make the same impact as someone volunteering for a longer period and may not see the completion of some of the building work.
PROGRAM COST.
Tanzania – Quick Facts
Start Dates: All Year Round
Duration: 1-24 Weeks
Program Locations: Arusha & Zanzibar
Minimum Age: 17 years+
Certificate – Offered after Program completion
All volunteer programs start on the first and third Monday of each month. Tanzania programs are fully open now!!
The country has opened for international arrivals. Programs in Arusha, Dar es Salaam, Mwanza, Mbeya and Zanzibar are available. No quarantine requirements on arrival.
Amani Hostel  provide the world's most affordable volunteer Program Fees all while delivering an award-winning support service. Using an online and modern approach we are able to provide life-changing opportunities which are often a fraction of the cost of similar organizations.
Amani Hostel   is also offering a wide range of affordable volunteering opportunities in two different cities in Tanzania – Arusha, and Zanzibar. Participants can choose to be a part of diverse projects including Childcare, medical, Teaching English, 2 Weeks Special, Football Coaching, and Conservation Project.
Medical and pre-med students can join the Health Care Project and work with experienced professional doctors. Apart from these, gap year travelers and backpackers looking to gain some meaningful international work experience as well as high school and college students looking for a worthy project can join these  International Programs, which not only gives a chance to volunteer but also allows you to explore the adventure trails and spot the Big 5 amidst the wilderness.
If you wish to be a responsible volunteer in Tanzania and enjoy the thrilling game drives, then get ready and join it through us!
If you are tired of expensive volunteer programs but want to make a positive contribution to the world, look no further! Amani Hostel is dedicated to offering high-quality, well-organized, and meaningful programs at the most affordable price in the United States.
We work hard to keep costs as low as possible, focusing on the effectiveness of our projects, the safety of our volunteers, and the quality of participant experiences. We currently offer the most competitive price possible in today's market and as small weekly fee as follows:
 Tanzania Volunteer programs cost table for 2022/2023 and for 2024.
Incl. introduction days
Weeks
Fee
2
350
3
450
4
500
5
600
6
700
7
800
8
900
9
1,000
10
1,200
11
1,300
12
1,400
 What's included?
Accommodation (volunteer house)
Free Airport pick up and drop off (24hrs )
Food (Breakfast and Dinner in a day)
1-2days of In country program Orientation and
Induction session to know the culture, people and city places.
In-country support
Free T-shirt and a cap
Free bottled water 1.5ltrs per day provided in your room.
Free WiFe use in the house.
Free day trip to Tarangire National park/ Lake Manyara for a volunteer stay longer than 9-weeks and this also includes Free visit to Maasai Village and Waterfalls)
Pre-departure support from your Program Manager
Personalized project and Pre-departure information
Certificate of completion
What's not included?
The Visa
Airfare
Personal expenses on soft drinks and foods
Daily transportation
Important things to note;
Our entire given Program does not attract a registration fees to join us.
Additional things to budget for include: Visa, flights, travel insurance (mandatory), vaccinations, criminal background check and return to the airport when your program finishes.
Recommended spending money: Volunteers in Tanzania generally find US$70-90 per week to be sufficient for expenses.
Independent volunteers under the age of 18 will have an additional cost of US$80 per week added to their program fee to cover extra logistical support provided by the local team.
The Medical project has an additional surcharge of US$50 per week for additional supervision, materials, and logistics involved.
The Animal Welfare project has a one-off surcharge of US$80 which covers costs involved in supervision and transport, and goes directly to the veterinarian volunteers are working with.
The Sustainable Agriculture project has a one-off surcharge of US$80 and the Construction and Renovation project has an additional surcharge of US$49 per week which covers supervision, materials and logistics involved with these projects.
A volunteer signing up for long term can pay his or her program cost with us on installment-Available on request.